Mr. Monk and the Garbage Strike
EPISODE: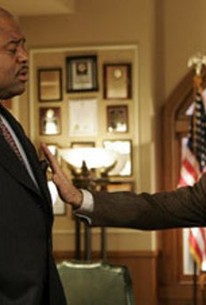 Episode Info
San Francisco literally stinks to high heaven thanks to the longest garbage strike in the city's history. No one is more upset by the overpowering pungency than the germophobic Monk (Tony Shalhoub), who doubles his efforts to find out who murdered the union boss who called the strike in the first place. Growing progressively unhinged as the smell gets worse, Monk concludes that the guilty party was none other than San Francisco mayor Ray Nicholson (Chi McBride)--and when this proves not to be the case, Monk goes completely off the deep end, accusing rock star Alice Cooper of the dirty deed! Will Monk get his act together in time to find the real killer, or have his phobias finally destroyed his detective skills?
Mr. Monk and the Garbage Strike Photos
Discussion Forum
Discuss Monk on our TV talk forum!