Room 104: Season 1
(2017)
You might also like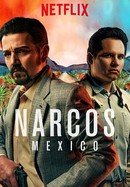 Rate And Review
Room 104: Season 1 Photos
News & Interviews for Room 104: Season 1
Audience Reviews for Room 104: Season 1
This reminded me of Twilight Zone. Interspersed with moments of Movie 43. The difference being Twilight Zone was interesting and Movie 43 was occasionally funny. This was just confusing and more importantly boring. I think the critics viewed a special screening. One with lots and lots of Cool Aid. There's a moral in this story boys and girls. Don't drink the Cool Aid.

I agree with Tommy below. Each episode is painfully boring. The first 3 episodes (Ralphie, Pizza Boy and the Knockadoo) were okay, but then it gets really bad after that. It's almost like every episode you are watching a new coat of paint dry on this boring ass hotel room. I kept saying "It's going to get better", but I finally threw in the towel after episode 9. If you want to make 30 minutes feel like 90 minutes...then watch this show. Unbelievable this got a 2nd season because there is NO way I will even think about watching it. ZZZ!

This has got to be one of the if not the worst show I have ever seen on TV. Derivative and incredibly boring, it makes a half hour seem like hours. I can't believe there is a second season. The episode with just lame dancing was the worst beside the other episodes. HBO seems to have really lost its way.

VERY GOOD. INTERESTINGLY INTRIGUING

First episode was interesting but after the show started to get boring and predictable, not worth your time.

The show is insult to its viewers and a pax on the Duplass brand name.

It got worse every week. I honestly thought it would be more interesting with stories that keep you wanting to watch. In absolutely no scenario do I want to watch 25 minutes of someone talking to their mom about how to use a computer...I've stopped watching.

You have to hook me in at the start and this did not. The first episode went from tedious and annoying to unpleasant. None of it was entertaining... like a very bad episode of twilight zone. I did not enjoy it and will not watch any more.

Watched episode 1 and had no idea what the hell happened.

This is the WORST show HBO has EVER presented. It wants to be a Twilight Zone type show but, it is an artsy, pretentious POS.HATE IT!