South Park: Season 2
(1998-1999)
SEASON: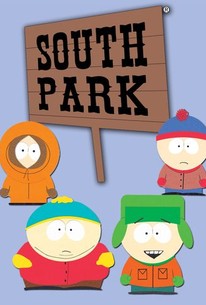 South Park: Season 2 Photos
Tv Season Info
The sophomore series of Trey Parker and Matt Stone's often outrageous satirical animated program "South Park" kicks off with the infamous episode "Terrence and Phillip in Not Without My Anus," and not with the resolution of the cliffhanger from last season about the identity of Cartman's father. That fact does however come to light in the second episode of this series that also includes a satire of the reality program "Cops" in the episode titled "Chickenlover." Other highlights include the song Chef (Isaac Hayes) sings in "Chef's Chocolate Salty Balls," a Christmas episode where the Stan, Kyle, Kenny, and Eric are kidnapped by Charles Manson, and Cartman trying to get a gig selling Cheesy Poofs in "Roger Ebert Should Lay Off the Fatty Foods."
Audience Reviews for South Park: Season 2
½
The second season of South Park gets even crazier as the boys get into more hilarious antics. This season Stan, Kyle, Cartman, and Kenny help solve the case of a serial chicken molester, go to the world dodgeball championship, foil a nefarious plot by a planetarium owner, throw a music concert to save Chef, do battle with their evil selves from a parallel dimension, and discover the mysterious Underpants Gnomes. Additionally, the show pulls a wild April Fool's joke by kicking off the season with a full-length Terrence and Phillip episode (instead of the promised conclusion to the "Who's Cartman's Mom?" mystery). The animation is improved but still sticks to the crude cardboard cutout look, and the satire is incredibly sharp and clever. The parodies are also extremely funny; riffing on Star Trek, the Grinch, Poltergeist, Titanic, America's Most Wanted, and America's Funniest Home Videos. The laughs keep coming in Season 2 as South Park adds more characters are gets more ambitious in its storytelling.
While some episodes may be hit or miss, Season 2 of South Park remains an important stepping in the show's history - and a great overall season to boot.
½
Season 2 continued from the first season, it includes introduction to many new characters and better tongue in cheek humour in general. Though still quite silly at times.
Discussion Forum
Discuss South Park on our TV talk forum!