Weird Loners: Season 1
(2015)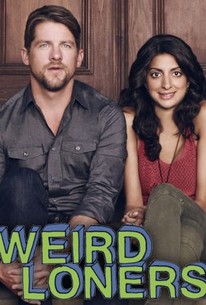 Rate And Review
Weird Loners: Season 1 Photos
Tv Season Info
In this comedy series, four thirty-something adults who fear personal relationships are thrown into each other's lives when a series of unrelated events forces them to share a townhouse. Caryn (Becki Newton) is an anxious dental hygienist who suddenly calls off her engagement and subsequently moves in with her friend, Zara (Meera Rohit Kumbhani), a struggling angst-filled artist. Simultaneously, Stosh (Zachary Knighton), a sleazy womanizer, loses his job because of his playboy ways. As a result, he moves in with his cousin Eric (Nate Torrence), an immature toll-booth attendant left on his own after the sudden passing of his father. Susie Essman and David Wain hold recurring parts of Caryn's mother and ex-fiancé.
News & Interviews for Weird Loners: Season 1
Audience Reviews for Weird Loners: Season 1
I think the critics missed the point of this show. It's not about singles jokes and rim shots with canned laughter. It's about heart. I didn't find this show until 2017, and I'm sad that it was cancelled. It warmed my heart in a way that TV rarely does. Broken people sometimes find each other BECAUSE they are broken, and end up helping and caring for one another. For me, this isn't a show about weirdos, it's a show about all of us.

Nate Torrence gives a great, and committed performance, as expected! The other actors are good enough. It's not very funny, but even that can't stop Eric from making you laugh! It's also kind of weird, but I think it, works? I like it at least. But, it does at least make sense, hence the title.

I don't even watch TV and this show hooked me from the first scene. Just shows that when you write for a smart audience the results pay off.

Great writers for this show! Dialogue is very funny. Characters are a bit unusual but scripted well for their comic potential.

One of the best pilots I've seen in a long time. This show did two things very few shows have done. It got me hooked by the very first episode. It also made me literally fall on the floor laughing. That is actually only an interview between Jon Stewart and Lous CK has done. About the actual content of the show: It is not actually the most original thing I've seen, but it wasn't inherently unoriginal either.. I've seen most of these characters before, but their interactions felt fresh. The plot has A LOT of conveniences as well, but I feel (and hope) this is just a necessary tool to push the in the right direction and bring the four main characters together in the short amount of time, and will be less prevalent in coming episodes. Even with the less than original characters, they are still clearly well realized and have more to them than a sense of humor. The situations, again while mostly not new, are laced with new jokes. I eagerly await new episodes.

Show was funny, the wedding scene in my opinion was probably the best part of the episode. Would love to see this run for a season to see were they take the show.