3:10 to Yuma
(1957)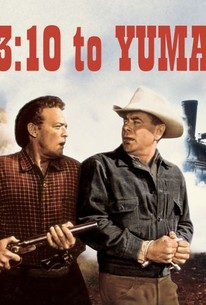 Movie Info
Desperate for money, frontier rancher Van Heflin holds outlaw Glenn Ford at gunpoint, intending to collect the $200 reward. While both men await the train to Yuma that will escort Ford to prison, the cagey outlaw offers Heflin $10,000 if he'll set Ford free. The rest of the film is a sweat-inducing cat-and-mouse game between captive and captor, interrupted with bursts of violence from both Ford's gang (commandeered by Richard Jaeckel) and the vacillating townsfolk.
News & Interviews for 3:10 to Yuma
Critic Reviews for 3:10 to Yuma
Audience Reviews for 3:10 to Yuma
½
Much more human than the remake, I thought, and to the good, it's 20 minutes shorter. I say it's a good thing because this is a movie based on an Elmore Leonard story. James Mangold, in his remake, would do well to take the author's advice and "leave out the parts readers [viewers] tend to skip." I found Van Heflin more intense and more desperate as Evans than Russell Crowe was, and in the role of Ben Wade, Glenn Ford had a bad guy charm that Christian Bale never quite pulled off... as much as I like Bale, he's not really a charmer: as Batman, his Bruce Wayne is off, and in American Psycho, a film I love, you realize rather quickly that Patrick Bateman can't even hope to hide his sociopathic leanings. But back to the film at hand: other than the fact that 2007 was its 50th anniversary, I really don't understand why this one was remade. It's tight and well-acted, and though not a perfect film, it tells a simple story well and is enjoyable because of it.
Daniel Perry
Super Reviewer
½
Near perfect psychological western. Great confrontational scenes between Van Heflin and Glenn Ford, and pure suspense from start to finish.
Pierluigi Puccini
Super Reviewer
½
Daring for a 1957 western. Off-beat and interesting, worth a watch, even if you're not a fan of the genre.
Randy Tippy
Super Reviewer
3:10 to Yuma Quotes
There are no approved quotes yet for this movie.
Discussion Forum
Discuss 3:10 to Yuma on our Movie forum!