Chloe
(2010)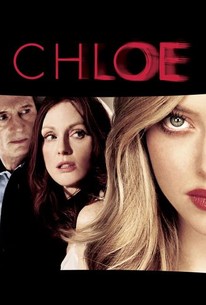 TOMATOMETER
AUDIENCE SCORE
Critic Consensus: Despite its promising pedigree and a titillating premise, Chloe ultimately fails to deliver the heat -- or the thrills -- expected of a sexual thriller.
Movie Info
Catherine, a successful doctor, suspects her husband David, a professor of music, of cheating. She tests his fidelity by hiring an escort to seduce him. Although the couple and their 17-year-old son appear to be the ideal family, their careers and raising a child have put strains on the marriage. Their relationship is suffering greatly from loss of communication and intimacy.Catherine's attempt to catch David cheating creates complications that put her family in danger.
People Who Like this movie also like
News & Interviews for Chloe
Audience Reviews for Chloe
½
Perhaps it should have been called Fatal Attraction 2, since despite his assured direction Egoyan doesn't seem to realize how incredibly predictable his movie is, with a silly plot that also defies credibility especially regarding the actions of Julianne Moore's character.
Carlos Magalhães
Super Reviewer
½
Marital cheating is re-defined in Chloe, the story of a young femme fatale's obsession with a dysfunctional family. This was the breakout film for Amanda Seyfried, in the title role. It's a good story of sex, manipulation, with even some dark psychological noir thrown in. Featuring an excellent cast, Chloe is emotional and rich with sexual tension. I liked this more than Fatal Attraction; it is admittedly uneven yet nonetheless diabolical. Julianne Moore is really spectacular. She's gynecologist (who writes this stuff?) who's clever plan to tempt/test her husband (Neeson) bewilderingly backfires. Moore is one of my favorite actresses; she carries off more diverse roles than anyone. While I enjoyed several aspects of Egoyan's direction, the film had "B" movie flashes as well. I didn't like the ending at all; it didn't ring true and was kind of anti-climactic. Enjoy it for what it is, sexy and dangerous.
Clintus Maximus
Super Reviewer
Chloe is one of those films that is hard to review without revealing too much of the plot. Atom Egoyan has adapted a foreign film, and for my taste, while it has some interesting elements, the pieces of the puzzle just don't quite all fit together, almost as at odds with itself as the film's heroine, Catherine, aptly portrayed by Julianne Moore. What is inferred by the film, and really what drives the action, is Moore's loss of self confidence and her place in the world as she ages. As she states at one point, "one day I was young and knew what to do and then I looked in the mirror and had no idea who I was". This adrift woman, who still holds a great job as a highly sought after gyn, is feeling that she is losing her grip on her family, and hence her identity. Her son is some kind of musical prodigy, who is in therapy and perhaps had some kind of recent breakdown (which further brings into question her abilities as a mother). When the late teen starts acting out and disobeying house rules, Moore is as a loss as to how to deal with him; wanting to discipline, but not wanting to stress him out. So she does nothing and the kid does whatever he wants. This feeling of helplessness colors her vision regarding her husband as well. Liam Neeson portrays the husband, a college professor who frequently guest lectures and spends long hours in faculty meetings and the like. Due to the high stress of both their jobs, plus his long hours, the pair have grown distant from each other. When Neeson misses a flight back home, Moore begins to suspect that Neeson might just be having an affair. So far so good, it's all very plausible, and the motivations are perfectly substantiated. But then you throw the title character into the mix. After a brilliant introduction in which Chloe, a call girl, dresses herself, Chloe's voice tells us that she has been taught just what to say and how to act in satisfying her clients; and when it is done right, then she can just disappear into the persona she's created. Thus far it sounds like you have a really tight psychological piece, and for a time this holds true, until Moore begins to notice Chloe, who works the hotels in the area around Moore's medical office. They finally meet (in a suspicious fashion), and Moore then hires Chloe to seduce her husband, which will give her irrefutable proof that he is unfaithful to her. I suppose this idea has some plausibility, given Moore's somewhat unstable background, but this bold move of a control freak runs counter to her confused persona. Moore follows her initial bad choice with several more questionable ones, again echoing Egoyan's choices in how he presents his film. Too many scenes are just that - scenes, with a set beginning, middle and end - each with a purpose and many either implausible or tottering on absurdity due to bad direction or bad acting in the case of Amanda Seyfried as Chloe. Many of these set pieces were written without an exit strategy. For example, when Moore has been out all night, Neeson is home waiting for her. He asks where she's been, and she then accuses him of infidelity. They begin to argue when sonny boy comes down the stairs and tells them that he can't wait to leave home. End of scene... um, don't you think that this high emotion bit of J'Accuse would and should continue? Guess not. There are fragments of a very good film here, and yet, as the aforementioned scene indicates, there's a bit of disconnect, where things just don't seem logical or real. This sense of disconnect becomes especially prevalent in the last quarter of the film, which devolves into an almost Fatal Attraction wanna be, with all the filmmaking 101 conventions to go with it, including a been there, seen that, finale accompanied by a tag ending. Said tag ending shows Moore entering a room with a party in full swing. She's wearing this terrible sack dress with a large black bow (and this from an upper crust woman of apparently good taste?). She glances across the room at Neeson, who is chatting up some folks (as a good host would do, one could surmise). Neeson then stares back at Moore - I guess this was supposed to carry some weight of some sort, but sadly, after an hour and a half, you have no idea what it's supposed to mean, other than it's intended to mean something. I should also mention another bit right out of screen writing 101. There's an heirloom hairclip that is an all too frequent part of the plot. As Moore turns away from Neeson at film's end, you see that she is wearing the hairclip. This is supposed to be a big "Aha" moment, but once again, it comes off as a bit of heavy handed, "ain't we cool to put that in there" bit of contrivance. I suppose it could be meant to convey a continued connection between the parties involved around the hairpin - which goes against the grain of the last third of the film, but perhaps shows that Moore remains damaged and adrift. Again, the pieces don't always mesh, and it seemed as if Egoyan, who I have great respect for, used a sledge hammer to try to force the pieces to fit. I'd like to see the film Natalie upon which this was based, just to see if there was a more subtle and plausible handling of the material. I suspect that, as usual, Chloe came to Hollywood and lost her way.
paul sandberg
Super Reviewer
Chloe Quotes
| | |
| --- | --- |
| Catherine: | How do you do this? |
| Chloe: | I try to find something to love in everybody. Even if it's a small thing. Something about the way someone smiles. There's always something, there has to be. I try to make myself generous. I do things I don't want to do. I... I think about what not to criticize. And the strangest things come back to me. |
| Catherine: | Like? |
| Chloe: | You. |
| Catherine: | Me? |
| Chloe: | Yeah. Yeah people like you walk into my life. |
| | |
| --- | --- |
| Chloe: | I liked it. Last night. |
| Catherine: | Yeah, I liked it, too. I can't say that I didn't. |
| | |
| --- | --- |
| Catherine: | You're amazing. You're so beautiful. |
| | |
| --- | --- |
| Chloe: | Does this turn you on? |