The Bad News Bears
(1976)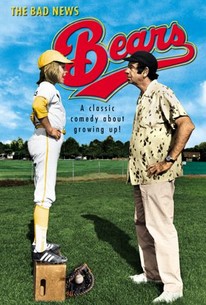 TOMATOMETER
AUDIENCE SCORE
Critic Consensus: The Bad News Bears is rude, profane, and cynical, but shot through with honest, unforced humor, and held together by a deft, understated performance from Walter Matthau.
The Bad News Bears Photos
Movie Info
The success this underdog comedy from director Michael Ritchie almost single-handedly spawned the kids' sports film boom of the 1980s and '90s. When beer-breathed ex-minor-league ball player and professional pool cleaner Morris Buttermaker (Walter Matthau) agrees to coach a little league team in the San Fernando Valley, he soon finds he's in over his head, having inherited an assortment of pint-sized peons and talentless losers. They play well-organized teams and lose by tremendous margins, and the parents threaten to disband the Bears to save the kids (and themselves) any further embarrassment. Buttermaker refuses, though, and brings in a pair of ringers: Amanda (Tatum O'Neal), his ex-girlfriend's tomboy daughter, and Kelly (Jackie Earle Haley), a cigarette-smoking delinquent who happens to be a gifted athlete. With their help, the Bears manage to change their losing ways and qualify for the championship, where they face their arch-rivals, the Yankees. ~ Jeremy Beday, Rovi
People Who Like this movie also like
News & Interviews for The Bad News Bears
Critic Reviews for The Bad News Bears
Audience Reviews for The Bad News Bears
I swear that it is purely coincidental that I happen to watch this merely a day after watching its remake. And honestly, that might not have been such a good idea to see that one first. Morris Buttermaker is a boozy pool cleaner and has-been minor league player who gets roped into coaching a lousy baseball team of misfits. This set the standard for countless sports movies, and, while it's not so revelatory now, I'm sure it was quite shocking/refreshing to have a kids movie have such an edge to it what with the swearing and politically incorrect nature. It's less vulgar than the remake, but while it's more family oriented, it's still got some racial epithets that wouldn't fly now a days if said by white characters. I did like this movie, but I think I liked the remake more. Again, I probably should have watched them in reverse order, but I can't change that. Watching either movie happened quite by chance anyway. This is a fun movie though, and what ultimately makes it worth it are Walter Matthau as Buttermaker, Tatum O'Neal as Amanda, and Jackie Earl Hayley as juvenile delinquent/star hitter Kelly Leak. If not for these three, then the remake would be a superior film. Give this one a watch. It's pretty good.
Chris Weber
Super Reviewer
One of the classic examples of sports movies, for its time "Bad News Bears" was vulgar, petty, and included obvious misfits. Baseball films hadn't been quite so forthcoming with their vulgarity by the mid-seventies, and this especially was shocking because the words themselves came from the mouths of children. Even by today's standards some of the profanity that these kids spew forth is considered vile and hate filled, as well as simply ludicrous in nature. Bears was the template for all later sports films with an underdog team put up against inscrutable odds and find ways to win. Like many films that came after it, the team starts rather badly in the season, beaten by teams by a twenty point margin. Though the team gets better as the season goes along, they don't start winning games until they bring in ringers to help them. The kids are your usual brand of misfits including the fat kid, geek, shrimp, immigrants, and gawky pre-pubescent saplings. The one distinguishable aspect of the film is the lead coach, portrayed by a very gruff Walter Matthau. Throughout the film he is shown as an alcoholic, and is deranged, and oddly revered. His alcoholism is never presented as a serious problem within the film in a way where he is shown to go through a general change or intervention. Amanda (played by Tatum O'Neal) does confront her mentor and father figure but is far more concerned with him being present in her life and fairly responsible rather than sober. Even in the end the Bears are drinking down beers though they are underage. A young Jackie Earle Haley shows up as a renegade dirt biker who comes onto the team as a ringer, along with O'Neal. It's a rather engaging movie, even with the drunk driving, child endangerment, and the general displeasure of watching children mock each other.
Spencer S.
Super Reviewer
½
The Bad News Bears is one of the classic baseball comedies. With a great cast of actors, director Michael Ritchie directs a fun film that is very funny. The Bad News Bears remains of the classic baseball comedies, and the film boasts an impressive cast including Tatum O'Neil who was the highest paid child star at the time of the films release. This is a good film that has many humorous moments. The remake of this film was good, but like every other remake, it doesn't compare to the original. This is a great comedy that will appeal to baseball fans, and anyone looking for a good laugh. Walther Matthau is perfect in the role of drunken Bears coach, Morris Buttermaker. He has a grouchy quality that he brings to the character that Billy Bob Thornton just can't duplicate. This is simply a well acted film that is highly entertaining. The cast do a great job here, and this is definitely one of best baseball comedies out there. This is a fun comedy with a good cast and great directing. Walther Matthau delivers here, and so do the child actors who star opposite him. If you're looking for a great comedy, then look no further than The Bad News Bears. This is a well acted film with plenty of jokes and a good cast that will surely entertain you. I very much enjoyed this film, and thought it was a fun time waster. A very enjo9yable comedy that is definitely a classic.
The Bad News Bears Quotes
There are no approved quotes yet for this movie.