D.O.A.
(1950)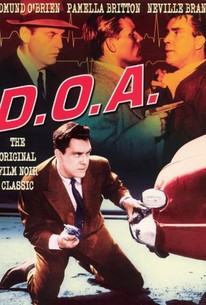 Movie Info
Frank Bigelow (Edmond O'Brien), a certified public accountant, goes on vacation in San Francisco. Awakening after a night of drinking, Frank feels sick and is informed by a doctor that he is suffering from "iridium" poisoning and has only a few days to live. Determined to find his killer, and aided by his secretary and fiancé Paula (Pamela Britton), Frank traces a shipment of iridium which he notarized to Los Angeles. Arriving in Los Angeles, Frank finds the killers, and, after a thrilling chase, kills them, later telling his story to the police. Told entirely in flashbacks -- with the unusual perspective of a murder victim functioning as his own detective, combined with the arbitrary nature of the motive and the circumstances leading to his poisoning -- D.O.A. is an unusually cynical, memorable film. Directed by Rudolph Mate, the film is fast-paced and suspenseful. The use of jazz music, combined with intense close-ups of the musicians, adds to the chaotic, claustrophobic feeling of the film. Edmond O'Brien is excellent as an ordinary man doomed by circumstance and trapped in a nightmare world.
News & Interviews for D.O.A.
Critic Reviews for D.O.A.
Audience Reviews for D.O.A.
½
"I want to report a murder." "Who was murdered?" "I was." One of the great "grabber" openings in movie history doesn't disappoint, leading to a tense and fatalistic noir about a poisoned accountant searching for his own killer.
Frank Bigelow is an accountant living on borrowed time. Someone has slipped luminous toxin into his bourbon and now he has just a few days to solve his own murder. D.O.A. is over-acted, over-scripted and under-appreciated. An absolute delight!
Randy Tippy
Super Reviewer
An extremely exciting, suspenseful movie, a really good movie.
D.O.A. Quotes
There are no approved quotes yet for this movie.