Dodge City
(1939)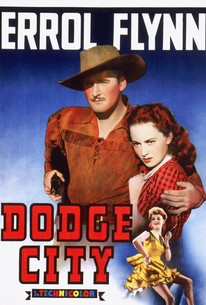 Movie Info
Dodge City and Stagecoach were released the same year and though featuring two very different plots, are both credited with breathing new life and legitimacy into the flagging western genre. Starring dashing Errol Flynn and beauteous Olivia de Havilland, Dodge City begins with a nailbiting race between a stagecoach and locomotive--representing the transition from the Old West to the new one. The story itself begins as an itinerant cattleman rides into the title town and ends up its appointed sheriff and assigned to rid the town of a troublesome villain and his outlaw gang. Along the way, he finds himself falling in love with a lovely saloon girl. The film's highlight is a barroom brawl that is so exciting and fast-paced that it set the standard for western movie bar fights in countless films to come.
Critic Reviews for Dodge City
Audience Reviews for Dodge City
A fantastic western. Errol Flynn is magnificent, as his transition from swashbuckler to western seems effortless, and he proves he's just adept with a gun as he is with a sword. This is a must see for all western fans as it paved the way for the genre.
Jonny Crumley
Super Reviewer
Errol goes out West for a gunslinging Tombstone style clean up of new city, Dodge City. I'm not totally keen on westerns to be honest, apart from afew Eastwood pictures they just aren't my thing. Like all westerns of this era they do look kinda quaint and too charming, not very realistic compared to more later westerns (of course), the acting is oh so sweet haha its all very nice and darling with a reasonable amount happening to keep you interested. Olivia de Havilland (film 5 of 9 together with Flynn) and Alan Hale both join Errol again in fine form directed AGAIN by Curtiz...the Warner super star director of all star cast pictures. There is actually plenty of action and fighting with a reasonable amount of smooching here, the technicolour is evident and lovely yet not as good as other films and locations are rural and real, not much set work by the looks of it. Not the best Flynn film for me but I can see why its a classic.
Phil Hubbs
Super Reviewer
Errol Flynn proves he's just as adept with a six gun as a sword in this classic western that reunited him with Olivia De Havilland and Michael Curtiz. Rousing gun fights, bar room brawls and knockabout comedy shot in glorious technicolor.
Dodge City Quotes
There are no approved quotes yet for this movie.
Discussion Forum
Discuss Dodge City on our Movie forum!