The Front Page
(1931)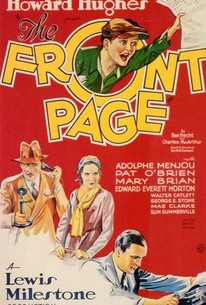 Movie Info
This film stars Adolphe Menjou as Chicago newspaper editor Walter Burns and Pat O'Brien as his star reporter Hildy Johnson. Hildy is on the verge of getting married and retiring from Burns' dirty tabloid, but he agrees to cover one last story: the politically-motivated execution of convicted cop killer Earl Williams.
Rating:
NR
Genre:
,
Directed By:
Written By:
In Theaters:
On DVD:
Runtime:
Studio:
United Artists
Critic Reviews for The Front Page
Audience Reviews for The Front Page
½
Lewis Milestone straight off his success with All Quiet on the Western Front turned his attention to this comic gem of the stage. Milestone and his crew have pretty much figured out the use of microphones for talking pictures and have again freed up the camera to move like in the silent days. This National Film Registry film has been restored by the Library of Congress. There are still a couple rough patches in the audio when characters weren't being picked up by the microphones very well or suddenly project to close to a mic and are too hot. In these early days of the talkies as well as popular music before Bing Crosby became a big deal, men like Pat O'Brien could be leading men material with higher pitched voices. To repeat what I said in my review of the 70s version of this play directed by Billy Wilder, the three movie versions of the play differ the most in the exposition. We meet Hildy's fiancé Peggy much earlier and Burns tricks Hildy into drinks and reverse psychology before we enter the play proper in the newsroom. The camera work is creative, the dialogue is rattled off fast, and the characters are all types that the actors could clearly reference from within their own lifetimes (I mean that the story and characters are current). This movie may have cut some explicit language that shocked audiences on Broadway, but not all the strong language and innuendo (including one devil-may-care reporter flipping the bird to the corrupt mayor and sheriff). I've read analysis elsewhere about how the politicians and reporters are all corrupt and morally ambiguous, whereas the only two characters trying to do the right thing are the street walker Molly and the escaped cop killer wrongly accused of being a communist Earl. This version makes those societal issues clear and still provides a rollicking laugh filled ride.
Byron Brubaker
Super Reviewer
It is a tribute to the greatness of Howard Hawks that he could take a perfect play like The Front Page, make fundamental changes to it, and make it better. I have a long-running argument with my movie-buff brother Nick about His Girl Friday. We saw The Front Page together by accident on late night TV many years ago, and we both fell in love with it. We hadn't seen His Girl Friday, and we shared an intuitive instinct that changing Hildy to a female and adding the romantic angle to her relationship with Walter was a cheesy Hollywood-ish stunt to broaden its appeal, likely softening the story's edge in the process. Only later did I give His Girl Friday a chance, and came away with a full understanding of its brilliance. I have tried to urge Nick to give it a try as if he had never seen The Front Page before. I don't know if he has ever honestly tried, but he hangs on to his disdain for the remake. At this point, many more people have seen His Girl Friday than Lewis Milestone's The Front Page. That is highly understandable, because HGF is far more accessible to modern audiences, with a much cleaner look and much better prints extant, the Burns/Johnson relationship having higher stakes by virtue of their personal relationship in HGF, with impeccable performances by Cary Grant and Rosalind Russell at the peaks of their talents and appeal, while sacrificing none of the machine-gun dialogue and trenchant political satire that makes the source material one of the greatest comedies ever written. But I STRONGLY urge anyone and everyone to watch Milestone's version, particularly the first-rate print that TCM runs. It's almost a technical miracle that Milestone got such torrential dialogue onto a soundtrack; sound movies were only a couple years old in 1931. If you've ever wondered where that fast-talking rat-a-tat old-timey form of dialogue started, this is the movie where it all began, and it's still never been done better. And honestly, there are a few aspects of The Front Page that are still better than its remake, despite the technical advantages available to Hawks a decade later. The character performances of the supporting cast are a bit more colorful in the original. For example, Edward Everett Horton makes a better fussbudget Bensinger than Cliff Edwards in the remake, Clarence Wilson's Sherriff Hartwell funnier and more colorful than Gene Lockhart's. The pre-Code leniency of 1931 allowed, among other liberties, Kruger to blatantly flip off the Mayor and Sheriff (ostensibly to tend to his middle finger's cuticle), which would never be allowed in a post-Code movie. And most of all, the final line of The Front Page, one of the greatest closing lines in movie history, was not possible the way the plot of His Girl Friday resolves. Folks, this isn't a binary choice. They're both amazing movies. Watch them both, love them both, laugh at both. And Nick, please give His Girl Friday a fair shot.
½
Though it's not as polished as you'd expect a comedy/drama to be today, the original Front Page has some creative cinematography, good performances, and lots of laughs. One of the few classic/older movies I've actually laughed out loud at - and was supposed to.
Cameron Johnson
The Front Page Quotes
There are no approved quotes yet for this movie.