A Shot in the Dark
(1964)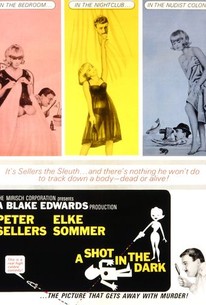 A Shot in the Dark Photos
Movie Info
In this film, a murdered corpse is found at the chateau of millionaire Benjamin Ballon. Inspector Clouseau is sent to investigate, but chief inspector Charles Dreyfus is loathe to allow the bumbling Sellers near the case. While Dreyfus barely tolerates Clouseau's idiotic antics, Clouseau tends to the case at hand.
Critic Reviews for A Shot in the Dark
Audience Reviews for A Shot in the Dark
Jacques Clouseau investigates a murder in an upper class Parisian residence, protecting the prime suspect for whom he has a crush. Broad comedy at its best, A Shot in the Dark features Peter Sellers reprising his most famous role. Sellers is great as Clouseau, and many of the physical gags are well choreographed and fun. If nothing else this film proves that the nudity-hiding bits in Austin Powers were thoroughly unoriginal. The film doesn't say anything, but it doesn't try to. Overall, this film is fun to watch, and that's about it.
Jim Hunter
Super Reviewer
½
A clever, well-made, funny entry into the 'Pink Panther' series, with the bumbling Inspector Clouseau (the legendary Peter Sellers) being called to investigate a murder in Paris, and how he continually finds ways to screw up the case. While occasionally too silly and stupid, this movie for the most part is a hilarious blast, with a Sellers-esque turn that is crowd-pleasing and irrefutably hysterical. It is not as good as 'Pink Panther', but director Blake Edwards finds ways to keep it interesting, especially when the pace threatens to drag down the movie to a screeching halt. If you like an old-school, clean style of humor, look no further than this movie.
Dan Schultz
Super Reviewer
My favorite of The Pink Panther series, as well as one of the funniest films ever made. This is the quintessential Clouseau film. The comedy is sharp and the outrageousness is, well, outrageous. There are also some fabulous set pieces and great improvisation from not just Sellers, but others as well. It all makes for a classic piece of comedic cinema.
Tim Salmons
Super Reviewer
A Shot in the Dark Quotes
| | |
| --- | --- |
| Inspector Jacques Clouseau: | [Accusing a suspect, millionaire Benjamin Ballon] And I submit, Inspector Ballon, that you arrived home, found Miguel with Maria Gambrelli, and killed him in a rit of fealous jage! |
| | |
| --- | --- |
| Inspector Jacques Clouseau: | I believe everything and I believe nothing. I suspect everyone and I suspect no one. |
| | |
| --- | --- |
| Chief Inspector Charles Dreyfus: | Give me ten men like Clouseau and I could destroy the world. |
| | |
| --- | --- |
| Inspector Jacques Clouseau: | Francois, would you call a doctor? I just cut off my thumb. |