The Spiral Staircase
(1946)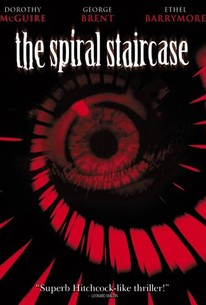 The Spiral Staircase Photos
Movie Info
Spiral Staircase is a thriller about a mute servant (Dorothy McGuire) who works in an spooky mansion that may house a killer who has been murdering women who have physical deformities.
Critic Reviews for The Spiral Staircase
Audience Reviews for The Spiral Staircase
½
Noticeably less eventful than one might expect, but by no means boring, with an unsurprising ending. The cinematography, however, is almost to die for.
vieras esine
Super Reviewer
Excellent chiller with an outstanding Dorothy McGuire in the lead. Fantastically moody settings and a real sense of dread permeates the proceedings under Siodmak's solid direction. It's the women in the cast who stand out here, aside from McGuire there's a young and very beautiful Rhonda Fleming, a quietly iunderstated but still scenery chewing Ethel Barrymore, and the humourous duo of Elsa Lanchester and Sara Allgood. All the men are rather stolid but it doesn't detract much from this superior and classy fright flick.
An atmospheric whodunit that has very little to do with a spiral staircase. Someone is knocking off women with 'imperfections'. A woman with a scar on her face, a 'simple minded thing', a cripple... and now, someone is trying to kill Helen (Dorothy McGuire), the gorgeous mute servant of rich old Miss Warren (Ethel Barrymore). Good luck trying to figure this one out - there is a plethora of suspects, and no butler!
Randy Tippy
Super Reviewer
The Spiral Staircase Quotes
There are no approved quotes yet for this movie.