The Undead
(1957)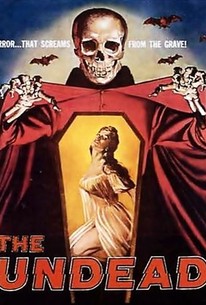 AUDIENCE SCORE
Critic Consensus: No consensus yet.
Movie Info
Legendary shlockmeister Roger Corman and long-time collaborator Charles B. Griffith attempted to cash in on the popular 1950s surge in Bridey Murphy reincarnation mania with this confusing and throughly weird thriller. It begins with researcher Richard Garland hypnotizing streetwalker Pamela Duncan in an attempt to record her past-life experiences as a condemned witch in the Dark Ages. After numerous silly attempts by Garland to save her -- including regressing himself into the same period, where, by remarkable coincidence, he also lived as a soldier -- Duncan decides not to alter the course of history, and she resigns herself to her fate. Despite the spooky ambience, a cast of Corman regulars (including Mel Welles and Allison Hayes), and some clever plot twists -- including one which finds the tables turned on our meddling scientist -- Griffith's static and talky screenplay is so absurdly crammed with half-baked metaphysical musings that it becomes almost impossible to discern the plot.
Critic Reviews for The Undead
All Critics (4) | Fresh (2) | Rotten (2) | DVD (1)
Not good, but so strange it's mesmerizing.
February 11, 2004 | Rating: 3/5
Classic but little-seen B-flick that deserves a modern-day remake. Check out Billy Barty as the evil Imp.
February 3, 2003 | Rating: 4/5
Audience Reviews for The Undead
Corman's time travel / horror movie is fun and entertaining. I liked it.
The Undead Quotes
| | |
| --- | --- |
| Livia: | Tis a wager then my twisted copy of a wizardess. Try every trick you know, I will vanquish thee and I will do it in my sleep. |
| Meg-Maud: | Sleep not while I'm awake. Thine sleep is coming, in the sulfurous pit! |
| | |
| --- | --- |
| Meg-Maud: | I know thee, for an imp! |
| | |
| --- | --- |
| Scroop: | Now there's a fine face to see on such a fine nice. |
| | |
| --- | --- |
| Helene: | A house, will I be safe there? |
| Smokin: | A mad man can't be sure of that, no more than whether you bewitched me or did not. Hey diddle diddle the rat and the fiddle. The corpse jumped over his tomb. The murderer laughed to see such a sight as he strangled a girl in the gloom , gloom, gloom, gloom. |