Infinity
(1996)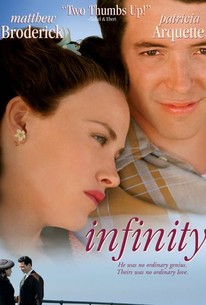 Infinity Videos
Infinity Photos
Movie Info
Richard Feynman was among the 20th century's great scientists and played a key role in the development of the atomic bomb. This biopic chronicles his struggles both in the morality of the Manhattan Project and his loyalty to his tuberculosis-ridden wife. The story begins in 1924 and is narrated throughout.
Rating:
PG (adult situations)
Genre:
,
Directed By:
Written By:
In Theaters:
On DVD:
Runtime:
Studio:
BMG
Cast
Critic Reviews for Infinity
All Critics (13) | Top Critics (4) | Fresh (8) | Rotten (5)
Actor Matthew Broderick feature directorial debut is a stagnantly flawed, listless account of Richard Feyman, the brilliant American-Jewish scientist; it doesn't help that Patricia Arquette is miscast as his wife.


New York Times
Top Critic
Globe and Mail
Top Critic

Los Angeles Times
Top Critic
San Francisco Chronicle
Top Critic
Houston Chronicle
Top Critic
Audience Reviews for Infinity
Sweet story. Kind of depressing, but hey, it's a movie about a guy's wife dying. A pseudo somber tone is to be expected.
Enrique Manzano
Sometimes, Your Personal Life Overwhelms Your Public Life I've never read any of Richard Feynman's books. I've meant to, and I have one of them around here somewhere, but I haven't gotten around to it. However, I know a fair amount about him for all that. Given that I've studied World War II, including the Manhattan Project, and am friends with more than a few physicists, most of whom work or have worked in the space program, it's hard not to learn about him. Heck, I had a professor in college who had worked at Bell Labs, and one of his coworkers had himself worked on the Manhattan Project. However, most of what the various people I know have talked about is his professional life. (And the bongo-playing, of course, alluded to but not demonstrated here.) I was intrigued by the idea of a movie about his private life, about which I knew essentially nothing. And, you know, I've always liked Matthew Broderick, if not his career choices. Richard Feynman was just a nice young boy from Far Rockaway, Queens. Who happened to be more than a little interested in numbers, but whatever. He graduated from MIT and went on to Princeton as a PhD candidate in 1939. While there, he was introduced to Arline Greenbaum (Patricia Arquette). They fell in love. Richard's father, Mel (Peter Riegert), doesn't want him to marry Arline before getting his degree. Worse, Arline gets sick. At first, no one is quite sure what's wrong with her. There is a debate between Hodgkin's Disease and glandular fever. However, she is tested and turns out to have tuberculosis. Mel Feynman tries to forbid Richard from marrying her, but to no avail. And then, when Richard gets his degree, he gets recruited to work in Los Alamos, New Mexico. Conveniently, there is a tuberculosis sanatorium not too far away. Richard and Arline marry, and they travel West. It does not take Richard, whose first graduate seminar included Einstein and Pauli, long to figure out what they're building there. Arline Greenbaum Feynman died in 1945. Effective treatment for tuberculosis began in 1946. I have to imagine that Richard Feynman was always a little bitter on the subject; he is said to have written a letter to her in 1946, the contents of which are unknown, and it wouldn't surprise me to know that it was in part out of anger and resentment that the treatment had been found. Really, it wasn't unreasonable of Mel Feynman to wish his son hadn't stayed in his relationship, given that Richard was extremely lucky to have failed to contract the disease himself. He could not have even been sure that he would have lived as long as Arline. Sad but true. Tuberculosis was known as the White Death, and quite a lot of famous people have died of it. What's more, it is now developing treatment-resistant strains, meaning it is once again likely to become a serious problem. It's a much more depressing version of evolution in action. Okay, I'm not sure I would have cast Matthew Broderick as Richard Feynman. I mean, they're both from New York, though Broderick is from Manhattan. Broderick is Jewish on his mother's side, and Feynman was ethnically Jewish as well. (Though he was also an atheist, and he didn't see the importance of distinguishing by ethnicity.) And I think the bongo-playing indicates that Feynman also had his own goofy side. However, I think the issue is that 1996 was about when they were trying to shift Matthew Broderick from teen movies to romantic lead, and this is at heart a love story. Feynman himself considered it more a love story than the story of his physics. However, Matthew Broderick never quite successfully made the leap to romantic stardom. I think he was trying for a bit of a Cary Grant career arc, and the problem, when you get right down to it, is that he was no Cary Grant. Still, this is better than some of the maudlin pieces of crap that Cary Grant made at the same point in his own career arc. I'll admit, I think at least part of the reason I liked this movie more than I might have done is that I like the idea of a romance wherein the man once (after the events of this movie) was divorced because he couldn't stop doing calculus. We have no way of knowing how long his marriage to Arline would have lasted had she not contracted TB, of course, but he himself probably considered it to be the love that was supposed to last a lifetime. And, you know, it's an interesting point that he was involved in one of the most significant moments of the twentieth century, if not human history, and that his most lingering memories of it were all personal. He knew what work he was doing, and he was glad to feel that he was helping the US war effort, but at the same time, what really mattered to him was that the woman he loved was dying by inches. It's a hard story, and while I think the absolute ending was more than a little maudlin, it's still a touching story. If not presented very well.
Edith Nelson
½
Feature about Feynman is decidedly unFeynman, focusing annoyingly on his relationship with Arline, so it really becomes a sappy romance instead of a biography of the man himself. The scientist is just a detail to carve onto the facade of a well worn formula. Broderick's girly voice doesn't fit the part.
michael lyons
Discussion Forum
Discuss Infinity on our Movie forum!
News & Features