The Convent
(2000)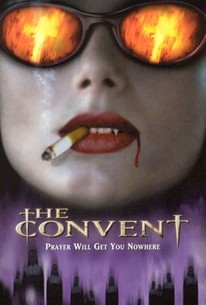 AUDIENCE SCORE
Critic Consensus: No consensus yet.
Movie Info
Adrienne Barbeau stars in this campy horror flick about dead nuns and the undead. The film opens with the legendary massacre at the St. Francis Boarding School for Girls. One night in 1960, a disgruntled former student saunters into the school chapel and kills a bunch of nuns and a priest with a shotgun. The deranged student, young Christine (Oakley Stevenson), then douses the mother superior with gasoline and sets her on fire with the flick of a lit cigarette. Forty years later, the shuttered school is a popular haunt for drunken frat boys and pasty-faced goths. When the cops make their usual bust of trespassing revelers, black-bedecked Mo (Megahn Perry) sticks around, only to be kidnapped for a Satanic human sacrifice. The inept devil worshippers inadvertently call up a real live demon when they stab Mo. Most of the ersatz Satanists are either butchered or rendered evil ghouls. Fortunately, Clarissa (Joanna Canton), the obligatory "nice-girl" in the band, manages to flee the school and find refuge with Christine (Barbeau), who was recently released from a mental asylum. With some coaxing, Christine agrees to break out the armaments and fight against the demons. Rap star Coolio appears as a freaked-out cop in the film.
Critic Reviews for The Convent
Audience Reviews for The Convent
This is one of the most terrible, cheesy and exploitative movies I have ever seen. I think I mistook it for something else when I rented it. It's about vampire-zombie things - that I guess are blacklight responsive- who eat people who visit them. And some Slappy the Squirrel-esquewoman who has to rescue a bunch of teenagers from them. It has a real Evil Dead:The Musical feel to it, only a lot less fun. Funny, but you can do better bad movie-wise.
Emily Armstrong
Super Reviewer
One of my favourite STV movies of the 90s. I think this one could have easily done well had it been released in theaters. I've heard it described as a party movie and I'd be inclined to agree. Like Evil Dead mixed with Night of the Creeps this is a really fun and funny horror film (and this is coming from a guy who hates a lot of horror comedies).
Christopher Brown
Super Reviewer
The Convent Quotes
There are no approved quotes yet for this movie.