Mystery Team
(2009)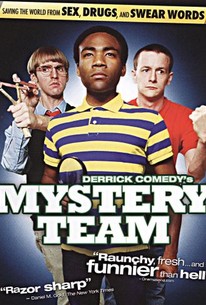 Movie Info
Three would-be Encyclopedia Browns step into the world of grown-up crime in this independent comedy. When they were seven years old, "the Mystery Team" were three kids living in the same neighborhood in Oakdale who played at being precocious preteen detectives. With Jason (Donald Glover) as "the Master of Disguise," Duncan (D.C. Pierson) as "the Boy Genius," and Charlie (Dominic Dierkes) as "the Strongest Kid in Town," they would spend their afternoons getting to the bottom of such crimes as missing tricycles and stolen pies, charging ten cents (or some fruit roll-ups) for their services. However, while their peers have moved on to more mature pastimes now that they're 18 years old, Jason, Duncan, and Charlie are hopeless nerds stuck in preadolescence as they prepare to graduate from high school. Convinced that all they need to do is prove their crime-busting talents to regain the respect of their peers, the Mystery Team step into a new class of detective work when a little girl asks them to find out who killed her parents. The guys are up for the challenge, but it isn't long before dealing with real (and truly dangerous) criminals gets them in hot water. Created by members of the comedy troupe DERRICK, Mystery Team received its world premiere at the 2009 Sundance Film Festival.
News & Interviews for Mystery Team
Critic Reviews for Mystery Team
Audience Reviews for Mystery Team
Donald Glover carries the entire film and does a considerably funny job doing so, but it's not enough to keep the plot on track without any help from his costars.
Kase Vollebregt
Super Reviewer
½
"One big case. Zero clue." A group of former Encyclopedia Brown-style child-detectives struggle to solve an adult mystery.
REVIEW
Donald Glover, D.C. Pierson and Dominic Dierkes play three 18 year-old boys who peaked when they were seven years old. A master of disguise, a boy genius and a tough kid, together they formed the Mystery Team, who would solve petty, childish mysteries around town for a dime a pop. They were beloved at the time, but when they're still at it 11 years later, it's kind of sad. One day a little girl brings them a grown-up mystery: her parents were murdered. It's out of their jurisdiction (they're usually occupied with finding out who stuck their finger in an old lady's boysenberry pie), but, pressured to grow up, they take the case. Mystery Team is a parody of a phenomenon that was never itself a film: The Hardy Boys, Nancy Drew, and especially Encyclopedia Brown. They manage to walk the line -- like the first Austin Powers film -- so that it's neither too wacky so you can't believe it and don't care about the characters, but not too boring that it's not full of subtle interplay. The main gag is the innocence of the boys, who are thrust into adult situations continually. It's all about the acting in this film, and kudos especially to Donald Glover. Dressing like an outrageous hobo, for example, could come across as really stupid in a film with Jim Carrey or Rob Schneider, who play up their roles too much. Donald manages to do it consistently. On top of that, there are a several delightful plot twists that you won't see coming. The film tries to balance the boys basically being incompetent with allowing them to succeed in a way that isn't too corny. It's laugh-out-loud funny throughout, a genuine must-see if you like intelligent edgy comedies. Note, it's not really meant to be a kids film. There's a lot of raunchy humor.
Lorenzo von Matterhorn
Super Reviewer
The humor grows grows on you eventually, leading to some outright guffaws.
Mystery Team Quotes
| | |
| --- | --- |
| Duncan: | Everything Is In This Toilet!!! |
| Duncan: | Everything is in the toilet! |
| | |
| --- | --- |
| Jim: | Frank! Sometimes I wish you didn't beat that cancer. I really do. |
| | |
| --- | --- |
| Jason: | Paper plates? Are you expecting the pope? |
| | |
| --- | --- |
| Duncan: | Goodnight sweet hobo. May your bindle be heavy with treasures, but your heart be light with song. |