What to know
critics consensus
Aid workers get their due in A Perfect Day, which is just different and well-acted enough to overcome its logy pace and narrative clichés. Read critic reviews
You might also like
The 100-Year-Old Man Who Climbed Out the Window and Disappeared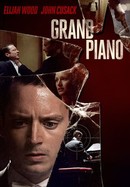 Where to watch
Buy from $9.99
Rent/buy from $3.99
Rate And Review
Movie Info
Aid workers (Benicio Del Toro, Tim Robbins, Olga Kurylenko) in the Balkans try to retrieve a man's body from a well before it contaminates the water for nearby villagers.
Audience Reviews for A Perfect Day
This was an amazing film, I was not expecting this to be what I watched. I thought it might be a cliché riddled film with tonnes of exposition, but this was a pleasant surprise. I've been looking to watch this film for the past year and finally sat down to watch it and I can't believe I wasn't heralding this film earlier. Robbins is hilarious in the support, that one scene between Del Toro and himself near the dead cow is worth the price of the movie alone. A strong cast and strong character moments create a film unlike any other film I have seen lately. If you enjoy character films, this is going to be one to stick on the shelf or re-watch on Netflix. 03/10/2018.

I would like to apologize to the people of Letterboxd, because shortly after I posted my Kung Fu Yoga review, I went into the draft tab of my Gmail account and found every Jackie Chan movie that I've reviewed (pre-Letterboxd) and just started posting them on Letterboxd. Even with that, and Letterboxd lets you see the percentage of movies from a certain actor (or director) you have reviewed. I have 3% of Jackie's total films on the site reviewed. I have posted seven reviews out of 192 films available on the site. That's nuts. Really don't know why I started with that, but let's move on. I've always been anti-war guy. While some people say that it is unavoidable in some cases, I've always found that to be a shitty excuse. The reason that I'm against war are my own, but mostly they're related to the fact that good people are lost on both sides of the equation. No one nation is fully evil and I know some people will argue otherwise, but it's just factually incorrect. Not to mention the damage done to people who might not even have anything to do with the war itself. Like civilians. And, again, this is on both sides of the equation. A lot of people, 99% of them conservatives, equate being anti-war as being anti-military, which is a bunch of bullshit. I do have problems with the organizational aspects of the military, but I support the troops much as the next guy. But I still find the idea that, on this side of the world, you can sign up for the military, go to war, kill countless people before you're actually legally able to drink. Eighteen is way too young to join the military, you're literally just out of your 'childhood' and, in some ways, you are still a child. And here you are thrown into this world that you probably don't have the maturity to be in. Legal age to join the military should be 21. That's neither here nor there, but I do appreciate the fact that the movie focuses on some of the unsung heroes of war, particularly in these parts of the world, and those are the aid workers that, in theory, try to clean up some of the mess that the war has managed to bring to their country. Perhaps this film's more small-scale approach, in that the main narrative driving force for the characters is to get some rope so they can remove a corpse from a well. Of course, that's used as a stepping point into some of the ideas the film wants to explore and the movie, really, is about much more than just finding rope. It's a more comical movie than I would have anticipated. But it's also not a movie that shies away from showcasing the harsh realities of living in war-torn Serba, at least for kids like Nikola. Who end up being orphaned without even knowing about it until much, much later. But that's not to say the movie is perfect, but I, again, appreciated the fact that it focuses on people who don't really get a lot of credit for their work. And, maybe, that's the way it needs to be, for every one, not just aid workers. You do the work because you actually want to help the people of a specific country, not because you're looking for 'glory'. As I said, the movie is relatively simple. It's straightforward, but I do think there's enough character development for things to be kept interesting. Mambru, the head of the mission, struggles once the woman he had an affair with is sent to investigate whether they should cancel his mission or not. So there's some butting heads between the two and I think the movie definitely focuses more on that than I think they should. Not that it's bad, but it feels a little bland all things considered. Not that they shouldn't have explored some of these ideas, it's just that the way they did it felt like it was from another movie entirely. The situation is definitely helped when Benicio Del Toro is your lead actor and he has Olga Kurylenko to play off of. They're both very good together and I think they make it work. The focus of the film isn't necessarily on them, though a lot of it seems to be about the tension that exists between them after Katya, rightfully, accuses Mambru of tricking her to sleep with him when she had a boyfriend. There's also Sophie, who's a bit of a wide-eyed idealist considering that she is a greenhorn. Her idealism, inadvertently, ends up getting them into trouble as her words have made it so that they are prohibited from doing their jobs in removing the body from the well. So you get to see how they have to jump through the hoops of bureaucracy of the UN, when, in reality, this is something that should be done without any incident, given that it's a matter of sanitation and the fact that people fucking need uncontaminated water to drink. I wonder if that's how it is in real life, because there's no fucking way I'm leaving a body corpse in a well if I can avoid it. Again, there's the contamination and the fact that people in this area need water to drink. Who would really make a fuss about this? Why does anybody higher up even care about who removes the body from the well just as long as it's removed? It doesn't really matter in the long run, I guess, but it's interesting to see the struggles they go through just to solve something so simple. Of course, how the body got there and why it got there is another matter entirely. They throw a few theories out there, but nothing is ever confirmed. Yet, again, it's not like it matters. The point of the movie is not to find out who did it and why, the point is removing the body from the well. I realize that this review really does kind of suck (my mind is elsewhere at the moment), but I legitimately really enjoyed this movie. I thought the writing was strong and the casting was excellent. Tim Robbins is probably the most conventionally entertaining character in the entire film, but I still felt the character development, while not necessarily out of this world in terms of creativity, was still strong enough. There's a pretty damn great rock soundtrack too. I also have to say that, despite the movie touching on some darker themes, I'm thankful that things were kept relatively upbeat throughout. The movie never really takes itself too seriously but, at the same time, it never minimizes the effect war has on the people of Serbia. That's not always easy to accomplish and I'm glad to say that they didn't throw in one last twist and have the corpse blow up at the end when Mambru, or someone else, was tying the rope around it. I don't wanna say the movie guides you down that path, but I certainly thought about it. Let's just say that it wouldn't have worked with everything else the movie attempted to do. I do realize that the lax pacing, small-scale focus in that it focuses on a smaller story unrelated to the main conflict but, definitely, influenced by them and some of the narrative issues might drive some people nuts, but I would still say that this was a damn good movie and I'd definitely give it a shot. Not many movies out there like this and I appreciate the focus given to a group of people who don't always get it.