Allied
(2016)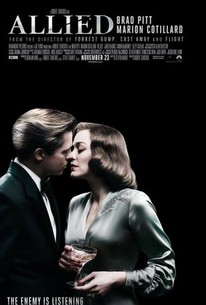 TOMATOMETER
AUDIENCE SCORE
Critic Consensus: Allied has its moments, but doesn't quite achieve epic wartime romance status -- a disappointment made more profound by the dazzling talent assembled on either side of the camera.
Movie Info
The story of intelligence officer Max Vatan, who in 1942 North Africa encounters French Resistance fighter Marianne Beausejour on a deadly mission behind enemy lines. Reunited in London, their relationship is threatened by the extreme pressures of the war.
News & Interviews for Allied
Critic Reviews for Allied
Audience Reviews for Allied
Dare to retool Casablanca? Are you out of yer tiny little mind?! But apparently Zemeckis has balls of brass. Take the original, remove the Hollywood varnish, the extensive cast, the distractions, and focus on what might really have happened between our star crossed lovers. Give the horses full rein and play the sucker out until the end. Unfortunately, it's not a film for the masses, but a few will revel in this glorious mix of love and trust, betrayal and faith. Me likey.
Kevin M. Williams
Super Reviewer
½
CASABLANDA - My Review of ALLIED (2 1/2 Stars) I'm a little late to the party reviewing this stinker, because truth be told, I first attempted to see the film last month and, bored out of my skull and viewing it at the tail end of a 3 movie day, I slept through 3/4 of it. Wanting to review it fairly, I saw it again last night and managed to stay awake...but barely. Man is this a lumbering bore, yet one with such a rich pedigree that I had to give it another shot. Robert Zemeckis, legendary director of such blockbusters as BACK TO THE FUTURE, WHO FRAMED ROGER RABBIT, and DEATH BECOMES HER is an old school Hollywood classicist who has always believed in structure, character development, inciting incidents, and those "audience applause" moments. Clearly it has served him well, despite my belief that FORREST GUMP remains one of the worst Best Picture winners of all time, and ALLIED feels like a film firmly within his wheelhouse. With a screenplay by Steven Knight (LOCKE, EASTERN PROMISES, DIRTY PRETTY THNGS), who with his edgy resume sounded promising in theory, Zemeckis tells the story of Max Vatan (Bradd Pitt) a Canadian airman who parachutes into Nazi occupied Morocco to meet up with Marianne Beauséjour (Marion Cotillard), a French resistance fighter. They're spies posing as husband and wife with the shared goal of executing the German Ambassador. The setup is G-L-A-M-O-U-R-O-U-S. Gorgeously shot by longtime Zemeckis collaborator Don Burgess, the look and feel is Golden Age Hollywood, when stars sauntered through foreign lands in dazzling clothes, smoked cigarettes, and fell in love with just a mere glance. Pitt's Max enters the first frame of the film feet first as he beautifully parachutes onto a desert landscape. It's a magical shot that thrusts you right into the story. What follows is so reminiscent of CASABLANCA, complete with a nightclub scene filled with tuxedos and swastikas. Cotillard even gets one of those grand entrances where she turns around to face the camera and gives a dazzling look to Pitt. Every crisp image plays out like a live action George Hurrell photograph. The first act of the film has a few exciting twists and turns and snappy details, such as Cotillard's ability to instantaneously fake a long term relationship with Pitt, or his skills at shuffling cards, but there's a marked difference in energy levels between the two. Cotillard vividly fills in the blanks in her character, infusing every sultry look or stride in her walk with the memorable kick of an Ingrid Bergman or Greta Garbo. Meanwhile, Pitt, seems completely checked out in the same way Bruce Willis does when he's phoning in a performance. I haven't seen Pitt appear this laconic since MEET JOE BLACK, and it's disconcerting considering all the dynamic great work he's done over the course of his career. Perhaps in his head he thought his stillness would read like Humphrey Bogart or Cary Grant, but it plays so mutely that when his character kicks a chair, it's so startling that Max has a pulse. When the couple make love in a car with a giant sandstorm swirling around them outside, I thought Zemeckis had achieved a cheesy greatness, despite the disappointing lack of chemistry. Let's put it this way, I was rooting for the sand. After the first act, which has a whiff of INGLOURIOUS BASTERDS Nazi-killing wish fulfillment going for it, the location switches to a short time later in London. In a state of rubble and with barrage balloons protecting the city from further damage, Max and Marianne settle into a comfortable marriage. It seems like life has returned to normal, which is the ultimate death of any forward moving spy thriller, and for a while, I thought I was watching John Boorman's HOPE AND GLORY outtakes instead of the nourish intrigue of the first third. During this stretch, we meet Lizzy Caplan, who plays Max's lesbian sister. And that's it. She's just there. Kissing her girlfriend a lot. And nothing else. She has zero bearing on the story except to remind us that lesbians existed before 1969. It's a random detail in a slow film that really can't afford to drift. Luckily, the filmmakers introduce a plot turn when Max learns that Marianne may actually be a Nazi spy. I won't spoil where this goes, but suffice it to say, things get mildly more interesting, relieving us of the welcome but pointless sapphic pleasures of a very minor character. We're treated to a few plot twists, but they fail to generate much heat, due to the fact that we're given new information about characters instead of getting to participate in the mystery from the beginning. The only times the film reaches as close as it can to potboiler level is during its over-the-top moments, such as when Marianne gives birth to their daughter outside during the blitzkrieg of London or when a plane falls from the sky. Otherwise, this is pretty anemic stuff wrapped up in a gorgeous package. Even with CASABLANCA, I never quite believed Rick and Ilsa's love story. I thought, "How can they always have Paris, when they really only knew each other such a short time?" With ALLIED, the characters actually get plenty of time to languish in their love story. It spans several years, and even with that going for it, the details of their relationship seem like pencil sketches. One can only wring so much passion out of Marianne cutely nicknaming Max, "Québécois" because of his flailing attempts to speak Parisian French, but it's not enough to believe in their undying love. It all comes across as a bland, slow dirge. If you're a fan, however, of sumptuous costuming, beautiful people, and a healthy dose of World War II intrigue, you could do worse than ALLIED. I mean, you could have chosen HANOVER STREET or YANKS instead!
Glenn Gaylord
Super Reviewer
The first half displays the action and build up expected the travel through to the end. however it dazzles out leaving you with an unsatisfying and unsuspenseful ending!
Film Crazy
Super Reviewer
Allied Quotes
There are no approved quotes yet for this movie.
Discussion Forum
Discuss Allied on our Movie forum!