Boy Interrupted
(2009)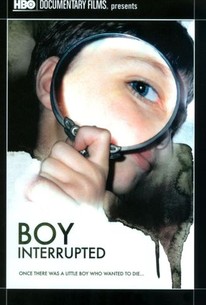 AUDIENCE SCORE
Critic Consensus: No consensus yet.
Movie Info
Hart Perry and Dana Perry are a couple with a background in documentary filmmaking (Hart is a cinematographer, Dana a producer and editor), and when they had a son, like many parents they spent a great deal of time recording their child's growth on film and videotape, albeit with higher-end equipment. But their son, Evan Perry, was different from most of his peers; Evan struggled with severe mood swings and emotional instability, and the couple struggled to help their child come to grips with an illness they did not fully understand (he was eventually diagnosed with bipolar disorder). Their efforts to help Evan came to a tragic conclusion when the boy committed suicide, jumping from the window of a skyscraper after leaving a note. Evan was only fifteen years old when he died. As Hart and Dana tried to come to terms with Evan's suicide, they decided to make a film in an effort to gain closure, and Dana began interviewing Evan's doctors, teachers, friends and family members as well as sorting through the hours of footage she had collected of her son. Boy Interrupted is the result, a powerful portrait of a family wrestling with loss and their unsuccessful battle to save their son. Boy Interrupted received its world premiere at the 2009 Sundance Film Festival.
Critic Reviews for Boy Interrupted
All Critics (3) | Top Critics (1) | Fresh (3) | Rotten (0)
Boy Interrupted is a remarkable, deeply unsettling documentary about the life of Evan Perry, an uncommonly bright, talented boy from New York who committed suicide at age 15.
Haunting suicide/depression docu; watch with your teens.
Not unlike Dear Zachary: A Letter to a Son About His Father, personal anguish here proves emotionally cathartic.
Audience Reviews for Boy Interrupted
Boy, Interrupted is really one of the most intimate and heartbreaking looks inside mental illness I've seen. Dana, a filmmaker and mother tells the story of her son, Evan who battled Bi-Polar Disorder, and Depression only to end his life at the tender age of 15. So much detail and care went into the film as Dana Perry recounts her son's life in the various treatments centers were he sought help, in the public schools where he overcame his problems and began to excel, and through very gut wrenching interviews with Evan's friends, and family including Dana herself. It is a give in that by the end of the film you will be in tears, as we learn of the last few hours of Evan's life, his legacy, and the family he left behind. For those who enjoy a good documentary then this is a really great one to watch, especially if you have loved ones suffering from mental illness.
Jason Reneau
Super Reviewer
Boy Interrupted Quotes
There are no approved quotes yet for this movie.