Buried Alive
(1989)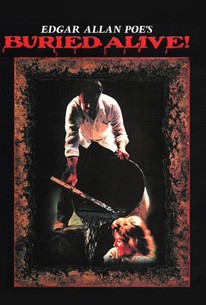 AUDIENCE SCORE
Critic Consensus: No consensus yet.
Movie Info
Although this bloody, relentlessly weird South African production purports to be a modern-day treatment of the works of Edgar Allan Poe (most promotional materials list the author's name above the title), it actually bears so little relation to Poe's writing that it makes Roger Corman's Poe "adaptations" seem meticulously loyal by comparison. The story involves a young psychologist whose arrival at the creepy Ravenscroft Institute for troubled girls is followed by the disappearance of several students. Tormented by a series of grotesque nightmares involving a deranged killer, the heroine eventually learns of the bizarre goings-on within the school's hallowed halls. Some oddball touches and outlandish performances from Robert Vaughn and Donald Pleasence (in a bad wig) make this film just campy enough to be entertaining. Alert viewers can spot John Carradine in his final role.
Critic Reviews for Buried Alive
There are no critic reviews yet for Buried Alive. Keep checking Rotten Tomatoes for updates!
Audience Reviews for Buried Alive
I wonder if I should even write a review for this movie since I never read the Edgar Allen Poe story it was based on & even if I did read the story I probably wouldn't get it since I never understand his stories anyway.If I did read the story, Would the movie have made more sense or would it have even made a difference? Since I watched it yesterday I guess I'll write a review.I'm glad I got to see this movie off the free channel because it's not a movie I would've paid to see or rent.This movie is only worth watching if you can see it for free.It's a good time waster if you're looking for a horror flick to watch.If you do watch Burried Alive then you'll understand why the movie was a flop, a sequel was never made & why you should not pay to watch it
Brody Manson
Super Reviewer
Buried Alive Quotes
There are no approved quotes yet for this movie.