Color of a Brisk and Leaping Day
(1996)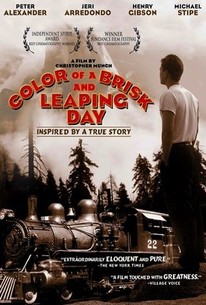 Movie Info
An unusual battle brews in post-war California in this gripping drama directed by Christopher Munch. John Lee (Peter Alexander) has always been proud of his heritage; the grandson of a Chinese railroad worker who helped build America's infrastructure, Lee attempts to celebrate his past by working to keep one of the oldest lines, the Yosemite River Valley route, from shutting down. Can he fight the march of time? Co-stars REM's Michael Stipe.
Critic Reviews for Color of a Brisk and Leaping Day
All Critics (5) | Fresh (1) | Rotten (4) | DVD (1)
It was a pleasant and unique film, as pleasant as going through a photo album of someone who really loves what he's showing you and you don't know what's coming next.
Audience Reviews for Color of a Brisk and Leaping Day
As anybody who has read this film blog over the years can tell you, I am not at all fond of nostalgia. The lone exception to that rule involves trains which is where "Color of a Brisk and Leaping Day" comes in. That, the crisp black and white cinematography and a surprisingly fine turn from Henry Gibson are sadly the only elements that merit the film the barest of recommendations. In the waning days of World War II, John Lee(Peter Alexander), a college engineering dropout who repairs trolleys in Los Angeles, is inspired by tales of his late grandfather, who he never met, working on building the transcontinental railroad to reinvigorate the moribund Yosemite Valley Railroad. So while there is some interesting history on display, it is also a little inaccurate in being about a decade too early in depicting the fall of the railroad and the rise of the automobile and freeway, not to mention the airplane.
Color of a Brisk and Leaping Day Quotes
There are no approved quotes yet for this movie.