Come Out And Play
(2013)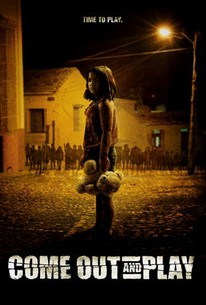 Movie Info
Beth (Vinessa Shaw, 3:10 To Yuma) and Francis (Ebon Moss-Bachrach, Damages), a happy young couple expecting a child, have come to Mexico for a romantic getaway. As they dock on a sun-kissed beach where children are playing and giggling, everything seems perfect. But as they wander the strangely empty streets, an atmosphere of unease sets in: an abandoned hotel, a distress call that repeatedly echoes from a radio set, the sense of being watched...the sound of children's laughter drifting through the streets, but no adults in sight. What started as a day in paradise quickly turns into a struggle for survival. (c) CineDigm
Rating:
R (for strong disturbing violence involving children, and for some language)
Genre:
Directed By:
Written By:
In Theaters:
On DVD:
Box Office:
$1,600.00
Runtime:
Studio:
News & Interviews for Come Out And Play
Critic Reviews for Come Out And Play
Audience Reviews for Come Out And Play
Updated version of WHO CAN KILL A CHILD. Not that the original need to be remade. In the end, the director goes there.
FilmGrinder Stone
If you've known me for a while then you'll know that one of my least favorite genres of, not to mention my absolutely LEAST favorite horror sub-genre, is the 'evil child' concept. It's a problem with an easy solution and seeing adults bumbling around trying to find a way around the obvious is tedious and asinine. Perhaps the problem is that most of these movies have the kids TRYING to look evil by making mean faces, and that's just about the most retarded thing I've ever seen. There's no way you can make a child look evil by having him look mean. There's just no way. This is where this movie ultimately differs from those that do this story so ineffectively. Outside of a few exceptions, the kids in this movie STILL behave like normal kids. They play, they laugh, the run. Except the fact that they're murderous maniacs. At first glance these kids seem like normal, playful kids. There's this sequence near the end where you see the kids laughing and playing with the body parts of those they have murdered and it is so simple, but so effective. There's nothing more innocuous than children's laughter, but when set to the images of these kids laughing and playing with heads, ears, fingers, etc. it makes it infinitely more creepy than it would've been, say, if the kids had been scowling and looking mean. I think that's what the film does best above the typical 'evil kid' movie, they let the kids act and behave as if they would normally. Really I just thought the film was solid all around. It is a little slow at first and it relies mostly on its atmosphere and its score to build up tension. And the movie does build up the tension really well. The score only enhances the atmosphere, it never takes away from it as is usual in so many horror flicks. But the movie definitely delivers the good stuff. It's got SOME gore but it's used sparingly and the way it's used, it's incredibly effective (ie: the scene I already mentioned with the kids playing and laughing with the body parts). The film is nicely shot, with some damn good cinematography. The acting is more than solid with the highlight being this one scene where one of the adults explains how the kids became murderous. This guy is, literally, just telling his tale...there are no flashbacks, no scenes to illustrate what he's saying. He's just delivering his lines and the way he delivers his monologue is incredibly well-done, because it does achieve a certain creepiness. This is just a well-made film, through and through. Sure, they don't explain what turned these kids into these maniacs, but I think that adds a little mystery to the events. I did think that 15 or so minutes of the film weren't so great. But I think this is a solid horror film, one that requires a little patience but one that rewards you with an effectively chilling story.
Jesse Ortega
Super Reviewer
MisterYoda ?
Super Reviewer
Come Out And Play Quotes
There are no approved quotes yet for this movie.
Discussion Forum
Discuss Come Out And Play on our Movie forum!