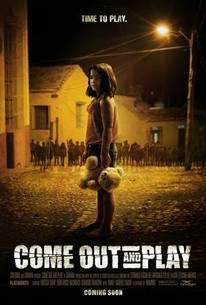 Come Out and Play
2012, Horror, 1h 26m
20 Reviews
500+ Ratings
Where to watch
Rent/buy
Rent/buy
Rent/buy
Rate And Review
Movie Info
Beth (Vinessa Shaw) and Francis (Ebon Moss-Bachrach), a young married couple, go on vacation to a remote island. They notice something sinister is afoot when they see lots of children and no adults.
News & Interviews for Come Out and Play
Audience Reviews for Come Out and Play
If you've known me for a while then you'll know that one of my least favorite genres of, not to mention my absolutely LEAST favorite horror sub-genre, is the 'evil child' concept. It's a problem with an easy solution and seeing adults bumbling around trying to find a way around the obvious is tedious and asinine. Perhaps the problem is that most of these movies have the kids TRYING to look evil by making mean faces, and that's just about the most retarded thing I've ever seen. There's no way you can make a child look evil by having him look mean. There's just no way. This is where this movie ultimately differs from those that do this story so ineffectively. Outside of a few exceptions, the kids in this movie STILL behave like normal kids. They play, they laugh, the run. Except the fact that they're murderous maniacs. At first glance these kids seem like normal, playful kids. There's this sequence near the end where you see the kids laughing and playing with the body parts of those they have murdered and it is so simple, but so effective. There's nothing more innocuous than children's laughter, but when set to the images of these kids laughing and playing with heads, ears, fingers, etc. it makes it infinitely more creepy than it would've been, say, if the kids had been scowling and looking mean. I think that's what the film does best above the typical 'evil kid' movie, they let the kids act and behave as if they would normally. Really I just thought the film was solid all around. It is a little slow at first and it relies mostly on its atmosphere and its score to build up tension. And the movie does build up the tension really well. The score only enhances the atmosphere, it never takes away from it as is usual in so many horror flicks. But the movie definitely delivers the good stuff. It's got SOME gore but it's used sparingly and the way it's used, it's incredibly effective (ie: the scene I already mentioned with the kids playing and laughing with the body parts). The film is nicely shot, with some damn good cinematography. The acting is more than solid with the highlight being this one scene where one of the adults explains how the kids became murderous. This guy is, literally, just telling his tale...there are no flashbacks, no scenes to illustrate what he's saying. He's just delivering his lines and the way he delivers his monologue is incredibly well-done, because it does achieve a certain creepiness. This is just a well-made film, through and through. Sure, they don't explain what turned these kids into these maniacs, but I think that adds a little mystery to the events. I did think that 15 or so minutes of the film weren't so great. But I think this is a solid horror film, one that requires a little patience but one that rewards you with an effectively chilling story.

Francis (Moss-Bachrach) and his pregnant wife Beth (Shaw) are taking the opportunity to holiday in Mexico before the birth of their child. Hearing of a tranquil island, Francis hires a boat and the couple leave the mainland. When they arrive they find children playing at the dock but no sign of any adults anywhere on the island. At first they assume everyone has left for a carnival but when Francis witnesses the brutal murder of an elderly man at the hands of a group of children, it becomes apparent something sinister is occurring on the island. Though it's mentioned nowhere in the marketing, 'Come Out & Play' is a remake of Narciso Ibáñez Serrador's 1976 Spanish horror movie 'Who Can Kill a Child?'. (The line is even uttered by a character in this version). Stephen King's short story, 'Children of the Corn', later adapted into a long running movie franchise, also borrows heavily from Serrador's film. In Makinov's remake, the English couple holidaying in Spain are replaced by an American couple in Mexico, but it's essentially the same movie, or rather an inferior copy. Serrador attempted a commentary on the effects of war on the young, but, despite dedicating his film to "the martyrs of Stalingrad", Makinov has little interest in anything other than cheap shock tactics. The film is devoid of suspense or tension, with much of the running time spent following characters wander around the island with no concessions made toward mood or atmosphere. Attempting to make children seem terrifying is a tough ask for any film-maker but Makinov completely fails to convince us that his young antagonists pose any tangible threat. A few years ago, the British film 'The Children' tread similar ground but added dramatic weight by having its killer kids the children of the film's protagonists. There's no such quandary for the lead couple of 'Come Out & Play'. As we have no investment in these children, they may as well be zombies or any other type of movie monster. What could have been an interesting look at what happens when survival wrestles with morality is instead just another by the numbers horror remake.

Come Out and Play is basically a carbon copy of the original 1976 film Who Can Kill A Child? It was a lazy remake that didn't even try to attempt something different with the concept or reinterpret it. The film is a retread and a missed opportunity to breath new life into the killer kids subgenre. The film still manages to capture the unsettling dread, suspense, mysterious and creepy atmosphere and terrifying helplessness that made the original effective. The musical score was intense and heart pounding and made you feel like you were watching a living nightmare captured on celluloid. The elements that made it watch able is that the premise is still creepy and disturbing and the story is still effective and shocking. Come Out and Play is in the end though just another pointless remake with nothing remotely new to show or say. The performances were solid for the most part but I thought the script was pretty weak with underdeveloped characters. The two leads were likable and did their best with little that they were given, but they just played the typical, token stranded tourists that waited too long to get the hell out of there. Ebon Moss-Bachrach and Vinessa Shaw play parents to be Francis and Beth, who take one last vacation before Beth is due to give birth to their child. They make a trip to a secluded island and realize too late that all of the adults are missing and the children left behind. The doomed couple soon discovers that the children are homicidal maniacs, with no explanation of how they got that way. We as viewers are just as baffled as the couple and there wasn't even a hint to how the children got that way. I think the main stars are talented performers, but are wasted here as the lackluster script raises more questions than answers. Director, Makinov pretty much cut and paste here with no inspiration behind the proceeding. He knows the basics of a horror movie but weren't inventive with the elements; as a result there wasn't any moments of surprise because if you've seen the original you know the outcome. The director brought nothing new to the story. Overall, it's an uninspired remake that's too faithful to the original and you might as well just rent the original because it's exactly the same right down to the ending. Both give effective chills, but there is no good reason for this remake to exist. Still there are far worse out there.
See Details