Deadwood Park
(2007)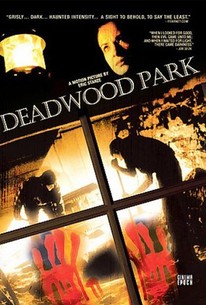 AUDIENCE SCORE
Critic Consensus: No consensus yet.
Movie Info
Years after his younger brother Francis was abducted by the elusive predator who hunted his young victims at a local amusement park, Jake Richardson returns to his childhood community of Eidolon Crossing only to discover that the voices of the dead still have something to say. When Jake was just a young boy, Eidolon Crossing flourished thanks to the profits made at nearby Dogwood Park. A modest amusement park on the outskirts of town, Dogwood Park brought outside traffic into town and gave the kids someplace safe to play; until the infamous child murders began, that is. From the moment the body of the first child was found at Dogwood Park, it seemed like a dark curse had befallen this once jovial playground. Over the course of the next thirty-five years, twenty-six more children would disappear from Dogwood Park and the locals grimly christened it Deadwood Park. Eventually, the park went out of business, plunging Eidolon Crossing into financial ruin. Back in 1979, Jake Richardson's younger brother Francis became the last child to fall victim to mysterious Deadwood Park killer. In the aftermath of the tragedy, Jake and his family moved away from Eidolon Crossing. Now, something is calling Jake back to his childhood haunt - something beyond his comprehension. Upon returning to his childhood home, Jake is shocked to find that the victims of the Deadwood Park killer aren't resting quietly. As mysterious shadows splash across the walls of his childhood home and eerie, disembodied voices lead him back to the amusement park where so many innocent youngsters once met their doom, the chilling final chapter in the story of Deadwood Park finally begins to unfold.
Critic Reviews for Deadwood Park
Audience Reviews for Deadwood Park
Great horror/mystery and oh what a payoff! Stanze does it again while constantly maturing as a filmmaker. It could be described as slow but it leads up to such a surprising conclusion that totally breathes new life into a certain horror convention that a lot of it's flaws are completely forgotten in the final moments. Still, I was intrigued throughout and never found it that slow going. Deadwood Park is melting in the dark, all the sweet green icing flowing down...
Christopher Brown
Super Reviewer
Deadwood Park Quotes
There are no approved quotes yet for this movie.