Django 2: Il Grande Ritorno (Django Strikes Again)
(1987)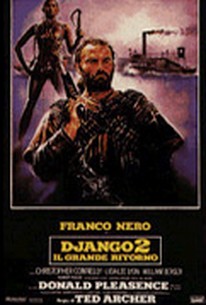 AUDIENCE SCORE
Critic Consensus: No consensus yet.
Django 2: Il Grande Ritorno (Django Strikes Again) Photos
Movie Info
Django was a successful and highly influential "spaghetti western," spawning over 30 pseudo-sequels that borrowed the name and the main character's bloodthirsty ways, but Django 2: Il Grande Ritorno (aka Django Strikes Again) was the first follow-up to feature Franco Nero reprising the title role from the original film, and the only one made with the participation of the director of Django, Sergio Corbucci (though only in an advisory capacity.) In this story, Django (Franco Nero) has spent a decade in a monastery, trying to live down his violent past as a gunman. However, Django is forced to renounce his vows when word gets back to him that a villainous slave trader, Orlowsky (Christopher Connelly), has kidnapped his daughter. Enraged and determined to bring the abductors to justice, Django digs up his old Gatling gun (literally - he had buried it in a graveyard, under a headstone with the name "Django" on it) and once again begins cutting a swath through the countryside as he seeks to free his daughter. Django 2: Il Grande Ritorno also starred Donald Pleasence, William Berger and Robert Posse; some prints are missing a five minute prologue sequence. ~ Mark Deming, Rovi
Critic Reviews for Django 2: Il Grande Ritorno (Django Strikes Again)
There are no critic reviews yet for Django 2: Il Grande Ritorno (Django Strikes Again). Keep checking Rotten Tomatoes for updates!
Audience Reviews for Django 2: Il Grande Ritorno (Django Strikes Again)
The only official (but certainly not the best) and up to now the latest sequel to Sergio Corbucci's 1966 masterpiece Django, "Django 2: Il Grande Ritorno" aka. Django Strikes Again, is definitely not worthy of the original, but it is still an entertaining Action/Spaghetti Western genre mix. Django, who calls himself "Brother Ignatius" now, has turned his back to violence and become a monk, living in a Mexican monastery, when a fatally ill former mistress tells him that he has a daughter and asks him to take care of the child after she's gone. The lady dies a short time later, and the daughter, along with other villagers, has been kidnapped by a ruthless gang of former Hungarian soldiers under the leadership of villainous Orlowski, a man who brutally enslaves Mexican civilians to drudge in a silver mine and forces women and little girls into prostitution, and is therefore referred to as "El Diablo" by the poor population. In order to rescue his daughter, "Brother Ignatius" has to return to his violent former ways and become "Django" again. The story is not very imaginative, and the locations are a little bit too tropical for a Western, even though the movie is set entirely in Mexico, but Franco Nero's performance makes up for the movie's weaknesses. Made in 1987, 21 years after the original, "Django Strikes Again" is a mixture of a Spaghetti Western and a typical eighties action movie. It is certainly fun to watch, but it's certainly not a masterpiece like the original. Django Strikes Again may be the only official sequel, but it's certainly not the best. I've seen "Django" sequels much better than this, but I've also seen much worse. 6 out of 10 stars because of Franco Nero, the one and only original Django, who saves the movie.
Cassandra Maples
Super Reviewer
Django 2: Il Grande Ritorno (Django Strikes Again) Quotes
There are no approved quotes yet for this movie.