DMT: The Spirit Molecule
(2012)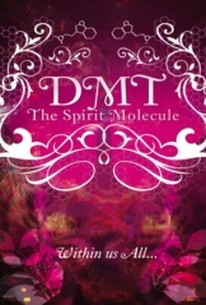 AUDIENCE SCORE
Critic Consensus: No consensus yet.
DMT: The Spirit Molecule Photos
Movie Info
Hosted by Joe Rogan, The Spirit Molecule investigates dimethyltryptamine (DMT), a naturally occurring psychoactive compound, which exists in humans, and potentially every living organism. Utilizing Dr. Rick Strassman's government-sanctioned, human DMT research as the documentary's backbone, the study's potential impact and its inconceivable revelations emerge. A closer examination of DMT's effects through two traditionally opposed concepts, science and spirituality, The Spirit Molecule unravels the connections between cutting-edge neuroscience, quantum mechanics and human spirituality. The Spirit Molecule, a simple molecule with enormous implications. The subtle combination of science, spirituality, and philosophy results in an abundance of incredible ideas and theories that could alter the way we understand the nature of reality and our relationship to it.

Critic Reviews for DMT: The Spirit Molecule
There are no critic reviews yet for DMT: The Spirit Molecule. Keep checking Rotten Tomatoes for updates!
Audience Reviews for DMT: The Spirit Molecule
½
The movie conveys its point, but consists of very little more than a set of repetitive interviews that lack in breadth interspersed with visuals that don't come close to making up for that shortcoming. This could potentially have been helped by more visuals, more science, more fascinating interviews, or more simply, being cut down to 10 minutes.
"Within us All..." I heard about this documentary and right away had to see it. I knew a little about DMT, but it is so fascinating, you want to know more. What I got from DMT was a lot of technical mumbo jumbo and some personal experiences with DMT. All in all, the movie was informative, but not entertaining. When I was about half way into it, I noticed that I wasn't fully engaged to what these scientists were saying anymore. I can only listen to so many scientists basically say the same thing over and over again. Luckily the film was short, but it still felt extremely dragged out. The subject is what sucked me into watching this. It's something that's interesting enough, but this film doesn't do it justice. I'm sure a much better and more entertaining film could be made from the topic. I would suggest skipping this to just about everyone unless you like listening to smart people say big words about the "The Spirit Molecule." This isn't a film I enjoyed watching. That isn't to say that it's a complete failure, but you have to do something to keep the viewer engaged. I'm a believer that you can make a documentary on anything and make it interesting. I've seen documentaries on Monopoly, Donkey Kong, and air guitar competitions. All were interesting and actually fun to watch because the people involved knew how to inform and keep you entertained. The ones here did not.
Melvin White
Super Reviewer
DMT: The Spirit Molecule Quotes
There are no approved quotes yet for this movie.