Don't Be Afraid of the Dark
(1973)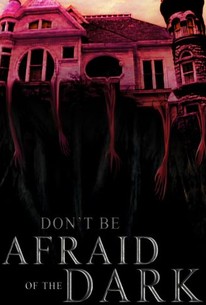 Don't Be Afraid of the Dark Photos
Movie Info
An old housea mysterious locked room a terrifying secret. Elements that make a horror movie memorably chilling get a taut, spooky reworking in Don't Be Afraid of the Dark. Kim Darby (True Grit) and Jim Hutton (The Green Berets) star as Sally and Alex, young marrieds who inherit a crumbling mansion. Despite warnings to leave well enough alone in her new home, Sally unlocks the mysterious room, opens a bricked-up fireplace and unleashes a horde of hideous, whispering, murdering mini-demons only she can see and hear. Alex thinks she's imagining things. We know she isn't. And we know Sally should be very, very afraid of the dark!
News & Interviews for Don't Be Afraid of the Dark
Critic Reviews for Don't Be Afraid of the Dark
Audience Reviews for Don't Be Afraid of the Dark
½
Don't Be Afraid of the Dark is one of the finest haunted house films in the genre. For a made for TV affair, this is a fine example of using atmosphere to create tension on-screen. The cast here is wonderful, and for its short run time, the film is truly an impressive piece of cinema that though might seem a bit dated, is still a terrifying horror experience that will delight genre fans looking for a well crafted haunted house horror tale. This is one of those rare films that actually can terrify a viewer and is among the finest pictures in the genre. With a great performance by Kim Darby, this made for TV film is one of those forgotten classics that deserves to be rediscovered by a wider audience. The tense atmosphere adds to the film enjoyment and it serves up bone chilling terror the way a horror film is supposed to. The supernatural elements here work well to keep you on the edge of your seat, and the great performances from its cast elevate this film significantly. If you love haunted house films, then seek this one out as this is among the classics that defined the genre. The film's story is very interesting and well layered to create a unique experience. Haunted house films are often hard to pull off, but director John Newland crafts a fine picture that is chilling from start to finish. With a clear understanding of pulling off effective terror, Newland delivers a supernatural tour de force that ranks up there with some of the finest horror films ever made.
½
The original Don't Be Afraid of the Dark is a television film from 1973. While I'm sure the film was effective at the time, particularly to a 70's TV audience who probably didn't see too many horror movies, I didn't find it to be all that frightening. It may be because I'm so desensitized to these kinds of movies that it just didn't work on me. Or it could be because that it's very simple in its scares. I like that there aren't any sort of jumpy moments and instead it's all about a creepy atmosphere. I also liked the ending a lot and the score was very nicely played. It is, of course, a bit dated in look and style, but none of that really matters. I tried to take step back from it and see it through younger and less-informed eyes than my own and I'd say that I could have been frightened by this as a child, but as is, I didn't find it all that terrifying or creepy.
Tim Salmons
Super Reviewer
Made for TV movie from the 70's about to get a glossy makeover. For a TV movie, this is wonderful stuff. They keep the number of characters low, use just a handful of settings, and concentrate on developing a twisted little atmosphere. It was complete in 2 weeks, but you could never tell. The little creatures are eerie and original without being comical. Things are whispered, things are moved, people are attacked, but it carries it off by keeping most things low key. The use of simple panning shots and quiet editing, makes it a film that builds tension with ease. If you are open to less obvious horror, with a love of practical effects, you should find a lot in this mini-treat.
Luke Baldock
Super Reviewer
Don't Be Afraid of the Dark Quotes