Electric Dragon 80.000 V
(2000)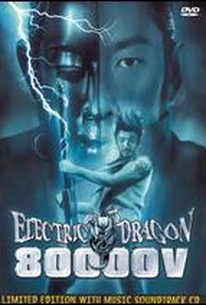 AUDIENCE SCORE
Critic Consensus: No consensus yet.
Movie Info
Following up on his exuberant Gojoe, which featured an ear-splitting soundtrack and a seizure-inducing editing style, veteran indie director Sogo Ishii spins this bizarre cyberpunk action flick about rock & roll and electricity. Ryuganji Morison (Tadanobu Asano) has two loves in his life -- electricity and lizards. As a child, he was struck by a bolt of lightning, rendering him a human battery of sorts. As a result, he can play the electric guitar with freakish intensity and speed. In his quieter moments, he tends his plethora of reptilian companions in a run-down apartment. Raiden Butsuzo (Masaotshi Nagase) was similarly struck down by a bolt of lightning, leaving half his face horribly scarred, which he covers with a metal mask of the Buddha. Raiden -- who works as an electrician by day and a nefarious crime avenger by night using a variety of exotic high-tech gear -- takes a dim view of Morison, whom he views as a potential rival. When Morison returns home to find his beloved lizards fried, he vows revenge. Soon, Tokyo's power grid blows as the two human sparkplugs power up for their final battle. ~ Jonathan Crow, Rovi
Critic Reviews for Electric Dragon 80.000 V
There are no critic reviews yet for Electric Dragon 80.000 V. Keep checking Rotten Tomatoes for updates!
Audience Reviews for Electric Dragon 80.000 V
Welll... the Flixster synopsis says it all, so no need for me to add anything except the film looks all scratchy and black & white and shrill and the opening and closing credits were designed by Tadanobu Asano, who did some of the waily guitary soundtrack too and at 55 mins running time, it doesn't outstay its welcome, and if you find it all a bit boring, just remember it's undoubtably really really cool.
½
Nicely stylish and strangely refreshing, hilarious & fun and Asano rocks, but you can feel that it lacks something & could have been better "What saved him from ruin was...THE ELECTRIC GUITAR" Trippy stuff
An assault to the senses, courtesy of Sogo Ishii's camera work and a great industrial-punk-rock soundtrack. Asano redefiness coolness as the lizard investigator/hard rocker/human battery Dragon Eye Morrison. Masatoshi Nagase is also very well casted as his nemesis. Cinematic creativity as i haven't seen in a long time, even the shorth lengh and abrupt ending doesn't take away credit from Ishii. GUITARRRRR!!!!!!!
Tsubaki Sanjuro
Super Reviewer
Electric Dragon 80.000 V Quotes
There are no approved quotes yet for this movie.