Emmanuel's Gift
(2005)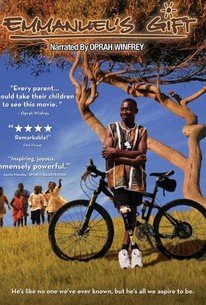 Movie Info
While being born with physical handicaps presents challenges no matter where you're born or under what economic circumstances, in many respects it's even more difficult when you're raised in Ghana, a Third World nation where much of the country's population lives in severe poverty and conventional wisdom has it that those born with physical deformities have been cursed by the gods, and are fit to do little more than eke out a living as beggars. Emmanuel Ofosu Yeboah was a 27-year-old Ghanan who was born with only one leg; the shame led his father to abandon the family, but his mother was determined to see her son grow up with strength and dignity, and with the help of a prosthetic leg, Yeboah was able to walk and care for himself. Determined to show his countrymen that the handicapped were capable of more than most were willing to acknowledge, Yeboah contacted an American organization called the Challenged Athletes Foundation, and with their help, set out on an unusual quest -- learning to ride a racing bike, and then piloting it across the nation of Ghana. Emmanuel's Gift is a documentary which chronicles Yeboah's remarkable life and his courageous journey, as well as the impact it had on his family as well as on handicapped people throughout the African continent. Oprah Winfrey serves as narrator.
Critic Reviews for Emmanuel's Gift
Audience Reviews for Emmanuel's Gift
½
Inspirational documentary about Emmanuel, a one legged man from Ghana, Africa. He not only overcame his own disabilities but became a champion for the disabled in his country.
Emmanuel's Gift Quotes
There are no approved quotes yet for this movie.