Extraordinary Stories
(2011)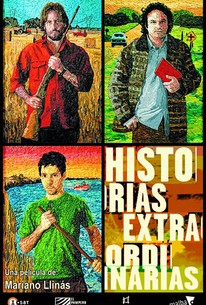 Movie Info
Filmmaker Mariano Llinas presents three interconnected stories that cohere into an impressionistic whole in this epic-length independent drama from Spain. X (Mariano Llinas) works as a surveyor for the Spanish government and is charting a village in the countryside when he sees a farmer being attacked by two strangers. X attempts to intervene, but when he discovers the farer isn't dead as he imagined, he panics and shoots him, forcing him to grab the farmer's belongings and go on the lam. Elsewhere, Z (Walter Jakob) has landed a new job, but he becomes curious about what became of the man who held the post before he did, and in time his desire to find out what happened grows into an obsession. And H (Agustin Mendilaharzu) sets out on a journey of the body and mind when he's hired by an engineer, Factorovich (Eduardo Iaccono), who wants to know the truth about a water processing project his firm launched and abandoned years before. Historias Extraorinarias (aka Extraordinary Stories) was an official selection at the 2008 Buenos Aires Film Festival, where the 250 minute feature was screened in two parts.
Critic Reviews for Extraordinary Stories
Audience Reviews for Extraordinary Stories
my attention span isn't the best and i often have trouble sitting through a 90 mins film so it was with some trepidation that i approached mariano llinas' 4 hour argentine epic, but i needn't have worried. this unique, amazing film has now become my favorite road movie. and it's much more than that. some compare it to a novel, by the likes of pynchon or borges, but it explodes narrative conventions in indescribable ways, without ever losing the audience. interweaving the stories of three men in a number of genres (thriller, romance, adventure, war film) with wonderful music selections, the film was made extremely low budget by this film professor and his students and became a sensation on the festival circuit but as yet has no dvd release in any english speaking country. however it's the most entertaining thing i've seen in ages and i could easily watch four more hours of this. mysterious and wonderful and unlike anything else you've seen. also the date should be 2008
Stella Dallas
Super Reviewer
Extraordinary Stories Quotes
There are no approved quotes yet for this movie.