Far Out Man
(1990)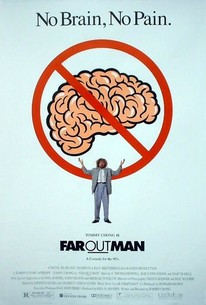 AUDIENCE SCORE
Critic Consensus: No consensus yet.
Movie Info
Starring many of his family members, this is Tommy Chong's (of the well-known duo, Cheech and Chong) first solo production. As an outdated hippie, Far Out Man (Tommy Chong) searches to relive his lost youth by traveling across the country. C. Thomas Howell, Judd Nelson, and Cheech Marin all make cameo appearances in this far out film.
Critic Reviews for Far Out Man
There are no critic reviews yet for Far Out Man. Keep checking Rotten Tomatoes for updates!
Audience Reviews for Far Out Man
Pretty stupid with some funny moments. Chong pulls his one trick pony routine and almost makes a decent movie..almost. The C. Thomas Howell plot works.
Rodney Eckrich
Far Out Man is the story of an aging hippie (the immortal Tommy Chong) whose still stuck in the 60's, high off his gord, and saddened over his ex-girlfriend (real life wife Shelby Chong) along with their son (real life son Paris Chong) who are now with C. Thomas Howell (playing himself) in basically a 99% autobiographically telling of Chong's life. With the help of his other daughter, Rae Dawn Chong, from another marriage, as well as Martin Mull, as a seedy therapist, Chong embarks on a journey of being a roadie again, with Paris accompanying him, neither knowing their true relations. For the most part, this movie if pretty unfunny, but it has its moments, thanks in part to a surprisingly good supporting cast that help Chong stagger about this entire film stoned off his ass. Most notable appearances from from the likes of 80's black comedian Reynaldo Rey (as Chong's seedy boss), Cheech Marin (in a surprise cameo as himself), Police Academy noise-maker Michael Winslow (as an airport cop), and Mull and Howell in their perspective roles. Judd Nelson also pops in as himself in a slightly comical battle between C. Thomas Howell, whom both were at about to make the big drop in popularity shortly after this film. Hmm, what else, Shelby Chong has a nice (but very brief) showing of her titties, as does B-movie actress Peggy McIntaggart. So, in conclusion, a couple of small laughs and some small titty shots does not help Tommy Chong capture any sort of glory he may have had when he was apart of Cheech & Chong. Don't feel too sad, he's definitely made a notable comeback lately.
Jason Duron
Far Out Man Quotes
There are no approved quotes yet for this movie.
Discussion Forum
Discuss Far Out Man on our Movie forum!