Gamera tai daiakuju Giron (Attack of the Monsters)(Gamera vs. Guiron)
(1969)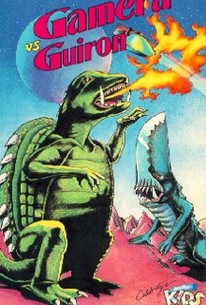 AUDIENCE SCORE
Critic Consensus: No consensus yet.
Movie Info
When nasty children-eating aliens invade Earth, it is up to Gamera to save the day.
Critic Reviews for Gamera tai daiakuju Giron (Attack of the Monsters)(Gamera vs. Guiron)
All Critics (1) | Fresh (0) | Rotten (1) | DVD (1)
The morbidly curious would be better off watching American producer Sandy Frank's VHS dub from the '80s; at least that's so outlandishly incompetent that it's funny.
Audience Reviews for Gamera tai daiakuju Giron (Attack of the Monsters)(Gamera vs. Guiron)
½
So silly and campy, but so much fun at the same time. Guiron is probably the strangest Gamera villain in the franchise, who has an axe for a head and can shoot shurikens. The two kid protagonists, Akio and Tom, make for pretty good duo. The plot is almost like a sci-fi retelling of Hansel and Gretal. The film makes it interesting seeing the duo's efforts to escape the two alien woman. The two alien woman are good villains. The setting on the planet Terra is charming for its home-made feel. One of my favorite moments of the franchise is when Gamera does a gymnastics flip on a conveniently placed bar. It is hilarious and simply classic. The only real flaw is the film's pacing slows down whenever it randomly cuts to scenes on Earth. The scenes on Earth are inconsequential to the main plot on Terra. Like in the previous film, this film also has a scene where Gamera's memory is examined. Thankfully, it only goes on for a few minutes, it is not as tediously drawn out like the last one. Not the best entry, but delightfully cheesy and enjoyable.
Christopher Heim
Super Reviewer
½
Two boys young boys fly in a spaceship to a hidden planet on the opposite side of the sun from us where two alien women want to eat their brains; *SPOILER!* Gamera saves them. The Gamera series was hitting rock bottom at this point, with the monster battles becoming shorter and more ridiculous (this is the movie where the giant turtle takes a few spins on the gymnastics bar). More for lovers of bad movies than for monster fans.
½
Another Gamera Movie, Made in 1969, two kids get on a flying saucer and go to another star that is like earth, yes I said star, and they run into these two bitc*s who want to eat there brains, yea , go figure a 1969 kids movie, and on this planet they run into another monster Guiron. But Gamera saves the day, puts away Guiron and brings the boys back to earth, so with only one other monster why the title attack all monsters, strictly a old school Asian Sci-Fi flick for kids 2 1/2 stars.
Bruce Bruce
Super Reviewer
Gamera tai daiakuju Giron (Attack of the Monsters)(Gamera vs. Guiron) Quotes
There are no approved quotes yet for this movie.