Gianni e le donne (The Salt of Life)
(2012)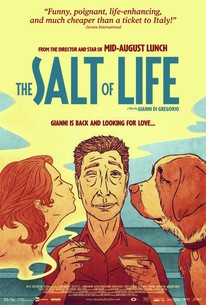 Gianni e le donne (The Salt of Life) Photos
Movie Info
In The Salt of Life, Gianni (Gianni Di Gregorio) plays a middle-aged retiree who has become invisible to all distaff Romans, regardless of age or relation. He contends with an aristocratic, spendthrift mother (Valeria de Franciscis); a wife who is more patronizing friend than romantic partner; a daughter (played by Di Gregorio's daughter Teresa) with a slacker boyfriend whom Gianni unwillingly befriends; and a wild young neighbor who sees him merely as her dog walker. Watching his "codger" friends snare beautiful younger women on the sun-kissed cobblestones of Trastevere, Gianni tries his polite, utterly gracious best to generate some kind of extracurricular love life-with both hilarious and poignant results. -- (C) Zeitgeist
News & Interviews for Gianni e le donne (The Salt of Life)
Critic Reviews for Gianni e le donne (The Salt of Life)
Audience Reviews for Gianni e le donne (The Salt of Life)
½
In "The Salt of Life," Gianni(Gianni Di Gregorio, who also directed and co-wrote with Valerio Attanasio) struggles on a monthly basis to pay his rent and has to dip into his pension to do so. All of which he blames on his nonagenarian mother's (Valeria De Franciscis) less than frugal spending that includes 150 euro bottles of wine that he seeks to curb by having her sign over power of attorney to him. What said attorney and friend Alfonso(Alfonso Santagata) thinks is the cure for all Gianni's ails is a mistress, namely Kristina(Kristina Cepraga), his mother's nurse and young enough to be his granddaughter. "The Salt of Life" is a gentle and droll comedy of manners about somebody whose life did not turn out exactly as he hoped. In present day Italy, it turns out he is not the only one. In fact, a trickle down effect is in play there where young graduates are out of work for the long term, their parents have to retire early and their grandparents are living longer than ever. To be honest, that's not really their fault, though, as they should spend their money however they like while Gianni should help his mother more.
A giving, genuine, and nice older man tries to take a mistress to liven up his boring life. I really liked the idea of this film: kindness can weigh on one, especially when one is surrounded by assholes. But in drama, or more broadly story-telling, audiences care about revolt, a character's reaction to fate's designs. Gianni's revolt, his attempt to find a mistress, is not a sympathetic goal, and though it leads to some funny scenes and seems natural, Gianni's objective doesn't get to the root of his problems. Without giving too much away, I will say that the last collection of shots of the film perhaps provide a worthy resolution to the film, but the ship sailed by the time the end could rescue it. Overall, while the idea for The Salt of Life could be dramatically or comically compelling, the execution didn't work for me.
Jim Hunter
Super Reviewer
½
This is quite a good film that is a gentle character study of a middle-aged who's struggling to deal with the fact that he's getting old and simply is becoming invisible to those around him. The film is carried by an immensely likable performance from Gianni Di Gregorio. He does a good job at getting across the character's desperation at still trying to hold on to his past glory, or what he would consider his glory days. That is all the movie is about. Seeing Gianni and his struggles with his age. Perhaps the film could've been shorter and better, but I still very much liked it. I think it is intelligent and obviously heartfelt, perhaps it's a story that's very close to Gianni himself. The film is funny but not hilariously so and it's well-shot. It's just a well-crafted film from top to bottom. Certainly not perfect, but it's a damn good character study.
Jesse Ortega
Super Reviewer
Gianni e le donne (The Salt of Life) Quotes
There are no approved quotes yet for this movie.