The Gruesome Twosome
(1967)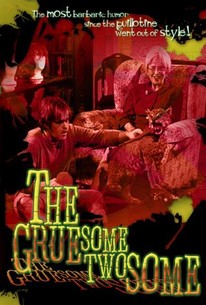 AUDIENCE SCORE
Critic Consensus: No consensus yet.
The Gruesome Twosome Photos
Movie Info
In this Herschel Gordon Lewis black comedy, an elderly wig shop owner's lifelike products are actually taken from the scalps of the young women whom her son murders.
Critic Reviews for The Gruesome Twosome
Audience Reviews for The Gruesome Twosome
½
This H.G. Lewis movie didn't have as much blood and gore as his other films, I think there are (ironically) only two scenes with blood and gore. And the rest is the silly main girl sneaking around like she's Velma from Scooby-Doo, except that she never solves a crime. Overall, it's entertaining, but I think this movie could have been better, even by 60s b-horror standards.
The Gruesome Twosome is a lot like any other Herschell Gordon Lewis film in that it features a ridiculous plot line, a plethora of useless performances, buckets of gore and some real nasty sequences. As usual, the director sets out his plot and it doesn't go anywhere from there. There aren't any twists in this film and what you see is very much what you get. While this simple formula is fun, it is rather monotonous also; and if you've seen a few other HG movies prior to seeing this one (as I had), it's safe to say that there isn't all that much here. The film kicks off with a suitably demented scene that sees two head models with wigs having a conversation with each other. From there, we learn that a wig maker's shop is getting its realistic hair straight from women's heads, as the old woman who runs the shop employs her retarded son to scalp the young women who comes looking to move into the abandoned apartment next door. The piece is made more ridiculous by the way that the old lady talks to Napoleon; who just happens to be a big stuffed cat! I'm never really sure if HG Lewis movies are meant to be bad, or if the director is just grossly talentless. The acting is so bad that it's arguably not even acting; between speaking parts, some of the actors are visibly laughing - I don't know if the whole thing is meant to be a joke. The film only lasts for the seventy or so minutes, and so you'd expect that even a plot as basic as this one would be able to be stretched; but the Godfather of Gore obviously didn't know what to do with it, meaning that way over half of the film is made up of useless scenes that add nothing to the plot and serve only in making the whole piece more weird. HG movies have a sort of otherworldly feel about them stemming from the fact that they are so inept; nobody in real life acts like the people in HG movies do, and this movie adheres to that styling. The characters are non-existent and the way they react to the local murders is purely stupid. The murder scenes themselves are grisly as usual, but as is the case with everything else in this film; they're impossible to take seriously. Overall, this really is a terrible movie; but there's something about HG movies that make them better than most trash, and while I won't argue with bad words against this film; I did enjoy watching it.
Cassandra Maples
Super Reviewer
The Gruesome Twosome Quotes
There are no approved quotes yet for this movie.