Hacksaw Ridge
(2016)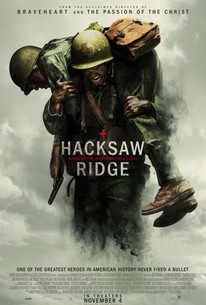 TOMATOMETER
AUDIENCE SCORE
Critic Consensus: Hacksaw Ridge uses a real-life pacifist's legacy to lay the groundwork for a gripping wartime tribute to faith, valor, and the courage of remaining true to one's convictions.
Movie Info
HACKSAW RIDGE is the extraordinary true story of Desmond Doss [Andrew Garfield] who, in Okinawa during the bloodiest battle of WWII, saved 75 men without firing or carrying a gun. He was the only American soldier in WWII to fight on the front lines without a weapon, as he believed that while the war was justified, killing was nevertheless wrong. As an army medic, he single-handedly evacuated the wounded from behind enemy lines, braved fire while tending to soldiers and was wounded by a grenade and hit by snipers. Doss was the first conscientious objector to ever earn the Congressional Medal of Honor.
News & Interviews for Hacksaw Ridge
Critic Reviews for Hacksaw Ridge
Audience Reviews for Hacksaw Ridge
½
Mel Gibson indulges in his biggest obsessions as a filmmaker and creates a magnificent film that couldn't have been made by anyone else. Full review on filmotrope. com
Carlos Magalhães
Super Reviewer
½
It's hard to believe that Apocalypto in 2006 was the last time Mel Gibson was behind the camera. I suppose 10 years in movie-making exile is where antisemitic rants gets you in Hollywood. That aside, it's a pleasure to see Gibson directing again as he often delivers big, entertaining spectacles and his latest certainly falls into line with that. Plot: The true story of private Desmond T. Doss (Andrew Garfield) who joins the army during WWII but refuses to bear arms due to being a conscientious objector. At the battle of Okinawa, Doss serves as a medic, saving numerous lives and becomes the first man in history to win a Medal of Honor without ever firing a gun. If you consider the material of Hacksaw Ridge, you might notice that's it ripe material for Mel Gibson and his personal beliefs. As a man who has been very outspoken (a bit too much) on his Christian values, this film seems like the perfect vehicle for him to channel these beliefs. Faith and religion course throughout this and, as much as you can may want to overlook it, it just won't let you. This is a film about a saviour and it can't help but bombard you with religious rhetoric and imagery. In the end, you could ask where God is in all this bloodshed and mayhem but that might be a tad too philosophical for what Gibson is going for here. Sadly, that's what's missing from Hacksaw Ridge; Its jingoism feels out of touch and I couldn't help but wonder what, say, Terrence Malick might have done with the material. If you consider Malick's The Thin Red Line, for example, you'll find a philosophical depth that's lacking from Gibson's film yet it would have benefited greatly from. There's also a contradictory nature; Despite feeling like an old-fashioned, Hollywood style picture it has many riffs and rip-off's of contemporary war movies. There are several unashamed nods to Full Metal Jacket, Saving Private Ryan and Gibson's own Braveheart and Hacksaw's major problem is that it doesn't come close to bettering any of them. I'm also not sold on the choice of leading man; Andrew Garfield is not a bad actor by any means but he doesn't deliver a performance that's worthy of the Oscar nomination he's received for this. I don't know, maybe it's just his appearance that throws me off. He's too boyish or maybe it's just that I can't help but focus on how disproportionate his hair is to his face. It's not the first time in a film that I've noticed his monumentally large hair. It's very distracting. That said, despite its cliches and sometimes woefully written dialogue, this still has much to offer in terms of entertainment and it's a pleasure to see Gibson calling the shots with his usual visceral approach. He still has a ferocious ability to stage a good action set-piece and Hacksaw provides a good number of them. Although old sugar tits just can't help but put his Christian values and themes of religious devotion into this, it's hard not to be swept up in the combat and the man behind the astounding true story. It's not subtle storytelling from Gibson but it's simple and effective nonetheless. Mark Walker
Mark Walker
Super Reviewer
½
Mel Gibson apparently never got the memo from Tinseltown. The man who was blacklisted by Hollywood has slowly, over the years, kept plugging away with various projects that could almost be seen as giant middle fingers to the industry. Its almost as if Gibson has upstaged Hollywood by displaying just how damn good of a director he actually is. You can almost feel the awkward shuffling in seats as the Hollywood top brass realise what they've been missing out on for the last ten years or so. Yes Mel is back with another corker, a biographical war epic based on actual events from the Battle of Okinawa, WWII, 1945. And yes its loaded with religious connotations as you would expect. So briefly, based on the actual events in the life of one Desmond Doss, a Seventh-day Adventist from the state of Virginia. After getting into a scrap with his younger brother and nearly killing him by accident, Doss turns to his religion and completely renounces violence of any kind. Years later he meets up with Dorothy Schutte, a nurse at the local hospital. Doss slowly gets into a relationship with Schutte whilst slowly gaining an interest in medical procedures, helping the wounded. With the outbreak of war, both Doss and his brother enlist in the army much to the distress and anger of their father. Upon reaching boot camp in South Carolina Doss quickly discovers that his aversion to using any weapons based on his religious beliefs, does not go down well with his commanding officers or fellow recruits. After beatings and unfair abuse from his drill Sergeant (on orders from the commanding officer), Doss is eventually brought up on charges and pending a court martial. Luckily Desmond's father manages to avert his imprisonment with a letter from his old WWI buddy who is now a very high ranking officer. Doss is therefore allowed to train as a medic and go into battle as he pleases, unarmed. Its whilst in the thick of battle on the island of Okinawa that Doss displays great courage, strength and compassion for not only his fellow troops, but the enemy as well. So lets just dive straight into the main crux of this movies story, the fact that Desmond Doss refused to carry, use or even touch a weapon because of his religious beliefs. Now apparently this is all pretty factual which amazes me frankly. I mean good on this guy for standing by his beliefs (God knows how that would go down these days) but holy bananas! I can see why his fellow recruits and officers grew so tired of his bullshit. All through the training sequences in this film I was frustrated, the fact that Doss refused to even touch a weapon just frustrated me. Not because I'm a gun loving lunatic but because I just couldn't get my head around the fact that this guy wouldn't hold a weapon. In peace times sure, understandable, but during WWII?! How the literal flip did this guy survive I just don't know. In order to gain a pass for some leave every soldier is required to pass basic training, which included weapons training. Doss obviously hadn't completed this and is refused his leave pass by his commanding officer. Doss explains that he intends to get married on his leave and begs for the pass, but he is refused. Doss is told he can have his pass if he can just prove that he can handle and load a rifle...Doss refuses. I was like...DUDE!! TAKE THE GUN AND DO IT FOR THE SAKE OF YOUR WIFE!! Even when it came to facing a court martial (which I believe didn't actually happen, it never went that far), the man still wouldn't handle a weapon. His wife is there in tears as he sits in a military jail awaiting trial, his commanding officer and drill Sergeant all begging him to just hold a weapon, just once...and he still refused. I was literally biting chunks out of my sofa cushion. Yes there are principles but there is also a bit of common sense, come on!! Like other military flicks I actually found the training section of the film (at the start) the most engaging. Yes I know that might sound strange but meeting all the different soldiers we will be following, finding out what type of persons they are, meeting the predictably stern and shouty drill instructor and watching him abuse the men etc...its kinda fun. Its here I will give kudos to Vince Vaughn who gives us a wonderful performance that was totally unexpected. I never saw Vaughn in this type of role, never in a million years...and he's really good! OK sure the entire segment is essentially a complete rip-off from 'Full Metal Jacket' with the various soldiers and their silly nicknames. Plus Vaughn's drill Sergeant isn't a million miles away from R. Lee Ermey's drill Sergeant truth be told, but its all good and he's easily the best thing in the movie for me. The actual war segments of the film, well half of the film, are of course the real meat and potatoes. Here we see the young Doss risking life and limb to save his fellow compadres from certain death, all the while without a weapon upon him. Its insane to actually think this guy actually did this, it almost seems like fiction to be honest. We see numerous amounts of men getting cut to ribbons by machine gun fire in seconds. Men getting blown to smithereens left, right and centre, bodies everywhere, its hell on Earth. Yet despite all that, skinny Doss sprints across the barren wasteland, ducking and diving, dodging danger like a ferret and never getting hit. He finds one man after another, treats them, carries them back to safety, hell he even gets forced down into the Jap underground tunnels and treats a soldier down there! All without being discovered, getting injured or even seen! This is why at times I felt like I was watching a superhero origins flick. Whilst the film is amazingly accurate and harrowing at the same time there were still things that nagged me. Some of these were really quite blatantly obvious too such as the knife that one soldier gets stuck in his foot right at the start of training...yet this doesn't go anywhere. The dude has a big hunting type knife stuck in his foot. Drill Sergeant Vince Vaughn sees it, pulls it out and the man goes off into training? No treatment for that then?? Whilst Doss is up on the ridge pulling injured men to safety and lowering them down the cliff, even though other soldiers have noticed this, no one feels the need to climb up and help him? Then there was the fact that these soldiers at the bottom of the cliff, apparently, didn't report any of this till much later. Which we find out later in the film when it eventually does get reported that someone is lowering bodies down the cliff. Lastly, I don't know how accurate everything is in this film but the ending did seem very Hollywood-esque to me. Expected I guess but I would of preferred a more down to earth approach which it may or may not have been admittedly. This is a Mel Gibson movie and by now I've come to expect greatness from old Mel. Was this great? well yes and no to be fair. I did enjoy the movie, it did engage me and it was at times emotional, but its not the greatest war film I've come across even though its very good. Its obvious the religious aspect is probably what attracted Gibson to the story in the first place, and he certainly makes the most of it (Doss getting lowered down the cliff face at the end being the clear symbolic religious highlight for sure). But that aspect doesn't cloud the movie if you're worried about that. The film is ferociously violent once the fighting kicks in no doubt about that, is it the most violent war film I've seen? Hmmm...maybe, not too sure. Kudos to Garfield for his portrayal of Desmond Doss, he clearly went all out and lost weight to fit the bill, not only that he does look like the man too. Admittedly I wanted to slap the guy across his cheeks half the time but I guess that's a performance well done. I should also give kudos to Hugo Weaving as Desmond's father with a truly gritty, bruising performance showcasing the man's many demons. At the very end we get some real archive footage of the real Desmond Doss being awarded the Medal of Honour by President Harry S. Truman. Desmond himself, Desmond's younger brother Hal and one of Desmond's commanding officers Jack Glover.
Phil Hubbs
Super Reviewer
Hacksaw Ridge Quotes
There are no approved quotes yet for this movie.
Discussion Forum
Discuss Hacksaw Ridge on our Movie forum!