Hacksaw Ridge
(2016)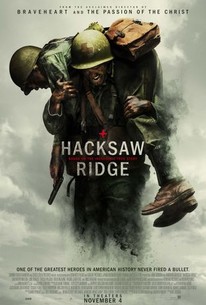 TOMATOMETER
AUDIENCE SCORE
Critic Consensus: Hacksaw Ridge uses a real-life pacifist's legacy to lay the groundwork for a gripping wartime tribute to faith, valor, and the courage of remaining true to one's convictions.
Movie Info
HACKSAW RIDGE is the extraordinary true story of Desmond Doss [Andrew Garfield] who, in Okinawa during the bloodiest battle of WWII, saved 75 men without firing or carrying a gun. He was the only American soldier in WWII to fight on the front lines without a weapon, as he believed that while the war was justified, killing was nevertheless wrong. As an army medic, he single-handedly evacuated the wounded from behind enemy lines, braved fire while tending to soldiers and was wounded by a grenade and hit by snipers. Doss was the first conscientious objector to ever earn the Congressional Medal of Honor.
News & Interviews for Hacksaw Ridge
Critic Reviews for Hacksaw Ridge
Audience Reviews for Hacksaw Ridge
Hacksaw Ridge is unexpected. I was anticipating another "war is hell" melodrama. Yes ok, it is that. I likewise got a surprising tale of faith as well. A man whose unconventional beliefs made him a social outcast. An inspirational account of heroism presented without qualification, as simply "a true story." Not based on. In keeping with the nature of the subject, that's an audacious label. Over time, his determination forced people to accommodate to his eccentricities until he ultimately won them over through sheer ability. The saga of Desmond Doss is a passion project through which director Mel Gibson undoubtedly identifies with the man. The chronicle is pretty inspiring and Gibson extracts the excitement out of the drama in classic fashion. Even when he is delving in clichés, he brings such heart and intensity, you can't help be won over. fastfilmreviews.com
Mark Hobin
Super Reviewer
Mel Gibson delivers, yet, another fascinating story in Hacksaw Ridge. Through a brute force of heroism, its graphic battle sequences and the morale and beliefs of its brave subject, the film is able to grasp the audience's heartstrings and make us fully invested in their tale. 4/5
Eugene Bernabe
Super Reviewer
Mel Gibson needs to direct more movies. End of statement. It's been a decade since Gibson last helmed a movie, 2006's visceral art film for jocks, Apocalypto, and he's been in "movie jail" ever since a string of controversial drunken statements. His new movie is a completely earnest, classical example of storytelling that you just as easily could see faces of old appear (say John Wayne in place of curmudgeonly Vince Vaughn), and Hacksaw Ridge is a stirring war movie and a stirring character study. Andrew Garfield plays Desmond Doss, a conscientious objector who wanted to go to war but refused to touch a gun. The first half of the movie is the U.S. Army trying to make sense of this inherent conflict, looking for ways to intimidate him, make him compromise, or kick him out of service. Yet, he endures, and it's in the second half that Doss single-handedly saves 75 wounded men as a medic left alone on a deserted battlefield in the Pacific. Garfield (Amazing Spider-Man) is a solid lead performance, though his cornpone West Virginia accent irritated me... until the real Desmond Doss is showcased in archival footage and he sounds exactly alike. The supporting characters are rich and have more depth than I was expecting, including Hugo Weaving as Doss' father, a drunken shell from his WWI survivor's guilt. There's much more complexity to what otherwise could be a hateful drunk and one-note character foil. The one miss I felt was the courtship between Doss and his future wife (Teresa Palmer). It felt like an outdated perspective where a man's insistence overrode a woman's agency and he was rewarded for it. Admittedly, that's a modern perspective applied to a generational relationship from long ago. The movie is naturally graphic but the bloody violence is stylized in a way that communicates the ugliness and chaos of war. The action develops and is grisly and engaging without losing sense of the characters and without falling into redundancy. When Doss is rescuing survivors in the final act, the movie finds new challenges that he has to overcome to keep things interesting and raise the stakes. Gibson's images can be frightfully beautiful; his command of visual storytelling and its evocative power is too good for only one movie a decade. It may be impossible to make an anti-war movie without in some way glamorizing war, so even though Hacksaw Ridge celebrates the heroism of one man's anti-violence values it finds a mainstream sense of entertainment in the carnage. It's like a tentpole Oscar movie and I hope I don't have to wait until 2026 for the next Gibson-directed vehicle. Nate's Grade: B+
Nate Zoebl
Super Reviewer
Hacksaw Ridge Quotes
There are no approved quotes yet for this movie.
Discussion Forum
Discuss Hacksaw Ridge on our Movie forum!