I Don't Want to Sleep Alone
(2007)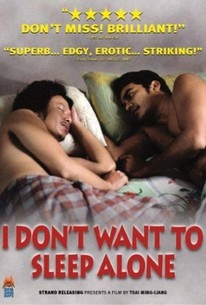 I Don't Want to Sleep Alone Photos
Movie Info
Homeless on the streets of Kuala Lumpur, Hsiao Kang is robbed, beaten and left for dead; he is found and nursed by Rawang, an immigrant worker, who lives in the shell of a modernist building abandoned during construction. Rawang's feelings for his patient may or may not be sexual, but there's definitely something like lust in the eyes of Chyi, a waitress in a run-down old coffee shop, when they light upon the recovering Hsiao Kang. And so a triangle forms as a blanket of noxious fog settles on the city and everyone has trouble breathing.
News & Interviews for I Don't Want to Sleep Alone
Critic Reviews for I Don't Want to Sleep Alone
Audience Reviews for I Don't Want to Sleep Alone
½
A poignant film of stunning, Tarkovskian beauty, but Tsai seems a bit too interested in playing with the structure of his works now, given how after a strong first hour it seems to drift away without direction only to finally make up for its flaws with a heartfelt, beautiful ending.
Carlos Magalhães
Super Reviewer
½
This was my first Tsai Ming-liang, which is probably why it took my awhile to get use to his style. The slow pace and minimal dialogue does make it very hypnotic.
½
[size=3]I Don't Want to Sleep Alone, the first Malaysian film I've ever seen, is breathtakingly original in its minimalist filmmaking technique. There's barely any dialogue at all.[/size] [img]http://www.indiewire.com/ots/I%20Don't%20Want%20to%20Sleep%20Alone%20b.jpg[/img] [size=3]While the first half of the film is captivating, the second half reduced me to yawning and looking at my watch. Cool styles and techniques aren't enough to make a movie. You need 90 minutes of consistently interesting storyline. This film has about 45.[/size] [size=3]The filmmaker, [b]Tsai Ming-Liang[/b], appears to be something of a celebrity, but this is the first I'm hearing of him.[/size] [img]http://www.fantomfilm.cz/pic/4/tsai1.jpg[/img] [size=3]The film is set in a big Asian city with a lot of recent development. Everywhere new buildings are being constructed, especially gigantic office buildings. There is also a lot of decrepitude. Every dwelling we see is crumbling. [/size][size=3]The marketing material for the film says it is set in Kuala Lumpur, the capital of Malaysia. But this was not clear to me while watching it.[/size] [size=3]The environment is filled with people who appear to be from different nationalities, although this is never spoken of explicitly. The central storyline surrounds a man who is beaten badly and then found by another man. The injured man is carried to a communal home, where something like 20 young men live together, each with his own sleeping space covered with mosquito netting. There is no furniture to speak of, just mats on floors.[/size] [size=3]The rescuer cares for the injured man in a way that is uncommonly tender. There are long scenes where the rescuer helps the injured man urinate and then gives him a sponge bath. This is amazing filmmaking. Tsai films in very long takes without any editing or camera movement. The sponge bath scene lasts about five minutes, yet I found it gripping. Watching someone care for another person like that almost brought tears to my eyes. [/size] [size=3]For it to be two men was oddly jarring. When have you seen a man in a film tenderly wash another man from head to toe? Such a banal thing, yet so infused with mysterious radiance by being seen for the first time. Also jarring is the fact that no one speaks. The movements that people make are heightened in meaning because of the lack of dialogue. Rather than hearing the rescuer say tender things, we watch him be tender, really putting himself out for the benefit of this stranger.[/size] [size=3]As the injured man gets better, he starts to stray. He has sexual trysts with a couple women (also with no dialogue spoken), and eventually he steals the rescuer's mattress so that he can sleep with one of the girls. This leads to an emotional confrontation between the men that is powerful despite being wordless. That confrontation is the first moment where it becomes clear that something like romantic feeling has built up between the two men.[/size] [size=3]I've read that the actor playing the injured man is something of a muse for the filmmaker. But I found the actor playing the rescuer much more compelling. I researched the actor's name: [b]Norman Atun[/b].[/size] [size=3]The weakness in the film is that after the uncommon bond between the two men is built, there's not much else that happens. We learn something about the women. One works in a sort of in-home hospice for patients who are on their death beds. But nothing in the women's lives is very interesting beyond that.[/size] [size=3]I would have liked to learn more about all of these characters. I loved being introduced to them, but the filmmaker didn't have much to say about them after the basic introduction. [/size][size=3]I Don't Want to Sleep Alone is a classic example of a film with a great first act, but a dead Act 2.[/size] [size=3]Tsai has a lot of similarity with another Asian auteur I've explored recently, Apichatpong Weerasethakul. Both are masters of visual poetry and mise-en-scene and both are quiet in style. But when it comes to visual beauty and overall skill as a filmmaker, I'd say that AW is the better one and the one that will be remembered more.[/size]
William Dunmyer
Super Reviewer
I Don't Want to Sleep Alone Quotes
There are no approved quotes yet for this movie.