I Think We're Alone Now
(2008)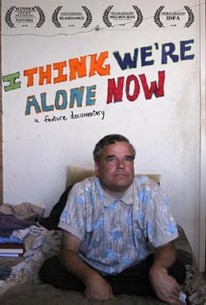 I Think We're Alone Now Photos
Movie Info
This documentary feature by director Sean Donnelly follows the adventures of two obsessed fans, 50 year old Asperger's sufferer Jeff Turner, and 35-year-old intersex person Kelly McCormick who claim to be in love with 80's teen-pop heartthrob Tiffany. With both humor and with sometimes heartbreaking sensitivity, Donnelly explores the lonely lives of these two people, classified by many as stalkers.
Critic Reviews for I Think We're Alone Now
Audience Reviews for I Think We're Alone Now
Very under-budgeted and certainly not big enough to be a full documentary, Sean Donnelly's efforts only reveal the first of many layers to two intricate stories. The film is promoted to be about 80s pop star Tiffany, who had two minor hits while playing for packed malls, one of which was Tommy James and the Shondells' "I Think We're Alone Now." Using this song title as a gratuitous first step, the film follows two of Tiffany's biggest fans, a fiftysomething Asperger's patient named Jeff, and an intersexed individual named Kelly. The film doesn't focus on the timeline of Tiffany nor Tiffany herself, and even more impressively doesn't speak much about her fan base. What you do get are two stories about two obviously delusional individuals. Jeff knows his behavior is off-putting and at times illegal, but he simply smiles it away like it's an offensive joke. Kelly is beyond confused about so much in her life and her devotion to the pop idol is somewhere between attraction and god worship. Kelly is the most delusional because she talks herself into a grand romance with Tiffany without having ever met her, and yet when she does she can't handle Jeff's equally ambitious and haphazard love for Tiffany either. It doesn't flow correctly, doesn't mesh the storylines in a cohesive blend, rather pushing the pair together without much thought. The entire film reads like a long episode of a TLC reality show and that's probably what this truly deserved to be.
Spencer S.
Super Reviewer
½
You have to feel for Tiffany, Her polite grace and accessibility has made her an easy target for the obsessive and delusional.
Randy Tippy
Super Reviewer
Interesting documentary about two people who are obsessed and in love with Tiffany. Jeff, who has actually been accused of stalking her, (and Alyssa Milano, though that's a different story) and Kelly, who is a transexual. Having grown up with Tiffany in the 80's, I was interested to see this. However, she is not really in it as such, (only brief sections where she has been filmed meeting fans, or onstage - although interestingly, none of the footage includes her music, even the bits where she is singing, so I guess she did not give her permission for this). It winds up more sad than anything else. Both Jeff and Kelly obviously have mental issues, and though you feel scared for Tiffany, you also feel some pity for the two of them, who obviously are not getting the help they need. Jeff honestly believes Tiffany is his best friend, and Kelly has delusions that Tiffany will fall in love with her. I also feel very sad for Tiffany watching this and what her career has sunk down to! She actually did do a decent album back in 2000 in "Colour of Silence" - very different to her 80's teen pop and some actual meaning to the songs - yet she is still reduced to be defined by her debut 80's album and that ill advised Playboy appearance.
Nicki Marie
Super Reviewer
I Think We're Alone Now Quotes
There are no approved quotes yet for this movie.