It Happened at the World's Fair
(1963)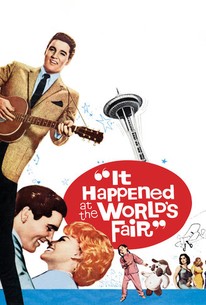 It Happened at the World's Fair Photos
Movie Info
This Elvis Presley vehicle is close to a lemon, even for his die-hard fans. Elvis is Mike Edwards, a pilot of a small plane who has a faithful sidekick, Danny (Gary Lockewood), and a penchant for singing. The story, such as it is, takes place in-between a total of ten different songs, the most memorable being "One Broken Heart for Sale". Mike is tough on the outside but he is willing to take up a good cause when he finds Sue Lin (Vicky Tiu) temporarily abandoned at the Seattle Worlds Fair. Aside from Sue Lin, he also finds an attractive nurse who is not abandoned but might still need attention.
Critic Reviews for It Happened at the World's Fair
Audience Reviews for It Happened at the World's Fair
I'm not a big Elvis Presley but I enjoy some of his music. I saw this at my Grandparents' house (huge Elvis fans there) and this one was quite enjoyable. Toe-tapping tunes and cute tender moments. I guess this is what we expect from Elvis' films. The film is about Mike Edwards, a cropduster pilot whose plane gets be repossessed. He then goes to the World's Fair where he believes he can get money. Then some dude drops some Asian girl in his care. He takes her to the fair and they have fun. He takes her to the nurse there and he begins to hit on her. The funny part of the film is how Mike keeps going to the fair so he can more chances to score. Thats the plot in a nutshell. So its got cute moments and some good songs. The little girl was funny as well. I'm pretty sure the inspiration for Lilo in "Lilo and Stitch" came from here. But its quite forgettable. If you like Elvis, give it a go. If not, I don't. Its an okay film. "How would I like to kick you in the shin?"
Bentley Lyles
Super Reviewer
It Happened at the World's Fair Quotes
There are no approved quotes yet for this movie.