Jesus of Nazareth
(1977)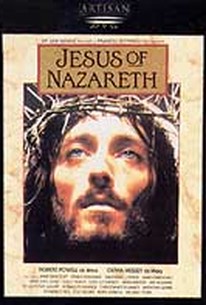 AUDIENCE SCORE
Critic Consensus: No consensus yet.
Movie Info
Because director Franco Zeffirelli noted publicly that he intended to depict Jesus Christ as a human being rather than a religious icon, his expensive made-for-TV miniseries Jesus of Nazareth fell victim to protestors long before its April 3, 1977, debut. Despite the pullout of several sponsors, Jesus of Nazareth was aired as scheduled, sweeping the ratings in the process. In avoiding the usual overproduced Hollywood approach to the Gospels, Zeffirelli offers one of the most sensitive and reverent portrayals of Jesus ever seen on film. In the title role, Robert Powell heads a huge international cast, which includes Olivia Hussey as Mary, Peter Ustinov as Herod the Great, Christopher Plummer as Herod Antipas, Michael York as John the Baptist, James Farentino as Simon Peter, Donald Pleasence as Melchior, James Earl Jones as Balthazar, Ian McShane as Judas, Anne Bancroft as Mary Magdalene, Rod Steiger as Pontius Pilate, James Mason as Joseph of Arimathea, Anthony Quinn as Caiaphas, Laurence Olivier as Nicodemus, Ernest Borgnine as the Centurion, and Claudia Cardinale as the Adulteress. Filmed in England, Tunisia, and Morocco, Jesus of Nazareth was scripted by Zeffirelli, Anthony Burgess, and Suso Cecchi D'Amico. It originally aired in two three-hour segments, telecast Palm and Easter Sunday of 1977 as part of NBC's Big Event anthology. ~ Hal Erickson, Rovi
Critic Reviews for Jesus of Nazareth
All Critics (4) | Fresh (4) | Rotten (0) | DVD (1)
The best film ever made that revolves around Jesus Christ remains Martin Scorsese's remarkable The Last Temptation of Christ, but for those opting for something more traditional, director Franco Zeffirelli's ambitious undertaking is clearly the best bet.
May not be the best life-of-Jesus film ever made… but no other Jesus film offers an interpretation of the gospel story as comprehensive and definitive.
Anything about Jesus works for me.
October 11, 2003 | Rating: 5/5
Audience Reviews for Jesus of Nazareth
As if quite a bit of Shakespeare and, later on down the line in his career, an adaptation of "Jane Eyre" wasn't enough, Franco Zeffirelli's heading back to the days of Jesus. I wouldn't be surprised if that was literal and Zeffirelli really did go back in time to film this miniseries, not just because Zeffirelli wishes he lived in that era, but because, if our lead got lost during the adventure, it would explain where in the world Robert Powell has been since this miniseries came out. I bet he's somewhere in time, walking around and not blinking, and Zeffirelli is sitting in his fine home, rich and well-respected among the public (Or at least by the four people who still remember him), envious as all get-out, because it wasn't him who stayed behind. Man, I'm surprised that he's still alive enough as it is, yet you know that Zeffirelli wishes he lived during the times he loved to portray. Well, I'm glad he lived to see and enter the era of film, because if he hadn't, then we would have such brilliant masterpieces, or at least that's what I would say if I was like all of these annoying nostalgiac critics who actually did live in the days of Jesus. Seriously, if Zeffirelli actually did live in that era and somehow figured out how to make a film, or rather, motion stone carvings, it would probably be considered the greatest film ever. Well, in all fairness, Zeffirelli sure knew how to make some pretty good films and a really good miniseries, though neither were entirely spotless. At a whopping six hours, or in the case of the uncut version... six hours and twenty minutes (Really, just 20 minutes? Not much of an extension when we're talking about six hours), this series trims little fat in the story of Jesus, so much so that, for good measure, they'll stop talking about Jesus for a little bit, and vice versa. Now, the series' focus isn't all over the place, to where it spends so much time focusing one angle that the shifts into another side of the story feel terribly jarring, yet the series is hardly all that smooth in its versatile focus, taking its sweet time to soak up what it can until, for a moment, you forget about the other aspects that need to be soaked up. The series loses itself at points, what with its having too many branches and spending too much time focusing upon those branches, and yet, with all of this hours, upon hours, upon hours worth of material, they still don't quite have enough to tap out at the six hours or so mark. That, ladies and gentlemen, is where repetition sets in, for although the series is reasonably tight, on the whole, it hits too many familiar spots, as well as the occasional overlong bit for the sake of padding, thus hurting the subtlety within this saga, or at least further hurting the subtlety. Now, this is a 1977 religious TV miniseries, so I'm not looking for Stan Kubrick subtlety here, yet still more subtlety than what is presented, as the series sensationalizes quite a few aspects, really overemphasizing the roles of our characters, both bad and good, as well as the emotional punch, so much so that the series actually hurts its resonance, and with repetition giving the series more time to meditate on its unsubtle touches, the saga gets to lose some steam on occasions. The series is a lengthy one indeed, yet reaches that point through too much unsubtle meditation and too many branches in focus, thus making for an improvable epic saga, yet still one most certainly worth seeing. For its time, this miniseries was fairly upstanding, and to this day, it impresses quite a bit, even when it comes to style. Being that this is still '70s TV, the look of the series hasn't faired all that phenomenally against the test of time, yet Armando Nannuzzi's and David Watkin's cinematography remains quite strong, boasting a kind of engrossing and handsome glow, as well as a scope that gathers a degree of sweep, yet is still effectively intimate with the situation at hand. The believability of the environment goes amplified by the cinematography, yet established by the also impressive production designs, which are so much necessarily impressive in their quality, but in their clever usage. The production is reasonably well-produced, yet not all that terribly so, and thank goodness for it, as the designs don't really leap out too much at you, but instead stand comfortable as supplements to the environment, whether they be portraying man's hope, as well as frustration towards misfortune or the corrupting fortune of the sinful. True, the subtle story value within the production goes betrayed by the overall unsubtlety of the final product, yet this world is ultimately constructed believably and helps in establishing an engaging tone that fits this fascinatingly and distinctly more intrigue driven and political, yet still emotionally resonant adaptation of the tale of Christ and the world he live through and influenced heavily. For the overall effectiveness of this tone, we do, in fact, have Franco Zeffirelli to thank, for although his direction is, as I said, rarely subtle and rather flawed, he is still ultimately inspired enough to get much momentum out of this project, laying down thorough entertainment value and intrigue to give what effective resonance there is in this saga enough juice to keep on kicking and keep it consistently engrossing, yet Zeffirelli doesn't accomplish this task alone. In all honesty, among the exacerbators of the unsubltey is the ever so occasional overacted performance, or at least that's just the case with Michael York (Jeez, Logan, calm down), yet on the whole, this series makes good use of its fine cast, with someone like Ian McShane really stepping up, almost to the point of stealing the show with his piercingly effective, soulful and layered performance as Judas Iscariot, while someone like James Farentino is truly fantastic and rivetingly emotional for the criminally limited time he's used as Saint Peter. As for, Robert Powell, he leads strong, being comfortable, charismatic and all around confident in his portrayal of the grace and glory, as well and nobility within Christ, incorporating many unexpected and impacting layers that give truly deep insight into Christ's own humanity, thus leaving Powell to embody the challenging role and assume the position of strong lead as he helps in carrying this series along as an ultimately quite rewarding watch. Overall, the series does perhaps too good of a job of spreading out its focus, meditating a little too thoroughly on other characters and subplots to where it becomes a tad uneven, while moments of repetition and segment overdrawing both hurt the momentum of the saga and exacerbate the many unsubtle touches, yet with unique concepts that go complimented by fine style and production designs, as well as really brought to life by generally inspired direction by Franco Zeffirelli and a myriad of generally compelling performances - among the most notable of which being by the soulful and layered show-stealer Ian McShane, as well as a layered and transformative show-owner Robert Powell -, "Jesus of Nazareth" ultimately stands as a consistently entertaining, thoroughly fascinating and all around satisfying tell-all study on the life and influence of the King of Kings. 3/5 - Good
Cameron Johnson
Super Reviewer
Zeffirelli is sometimes as over-emotive as a drunk at closing time who's wife threw him out which only slightly mars this overall decent interpretive spin on the Gospels (Anthony Burgess is on the writing team!) replete with very good performances. Look for Michael York as John the Baptist, Peter Ustinov as Herod the Great, and Chris Plummer as Herod Antipas.
Kevin M. Williams
Super Reviewer
Jesus of Nazareth Quotes
There are no approved quotes yet for this movie.