La Bête Humaine (Judas Was a Woman)(The Human Beast)
(1938)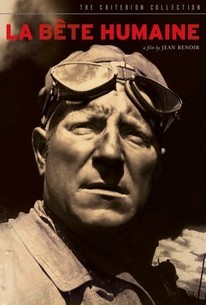 La Bête Humaine (Judas Was a Woman)(The Human Beast) Photos
Movie Info
Based on a novel by Emile Zola, La Bete Humaine weaves a mesmerizing tale of a tragic triangle. Train engineer Jean Gabin lusts after Simone Simon, the wife of his co-worker Fernand Ledoux. When Ledoux is in danger of losing his job, Simon offers herself to her husband's boss. In jealous pique, Ledoux kills the man. Gabin is witness to this, so Simon promises to reward him sexually if he'll keep quiet. As this romance intensifies, Simon tries to finagle Gabin into killing Ledoux. Sick of the whole sordid affair, Gabin murders Simon and then kills himself. When Fritz Lang remade La Bete Humaine as Human Desire in 1953, he carefully copied several of the best visual selections made by Jean Renoir in the original film; what he was not permitted to copy was the story itself, which had to be heavily laundered to accommodate Hollywood's censorship limitations. ~ Hal Erickson, Rovi
News & Interviews for La Bête Humaine (Judas Was a Woman)(The Human Beast)
Critic Reviews for La Bête Humaine (Judas Was a Woman)(The Human Beast)
Audience Reviews for La Bête Humaine (Judas Was a Woman)(The Human Beast)
Based on the Emile Zola novel of the same name, you of course expect this film to channel the darker sides of man, and show his animal nature. The beginning sequence on the train is brilliant, with the awesome power, noise, and smoke really setting the tone. Unfortunately the rest of the film didn't live up to this beginning. There are issues that stem back to Zola himself, whose theories about the blood line of a family being poisoned by its ancestors were pseudo-scientific at best. The result is that it's hard to believe the violence that at times suddenly possesses the character of Lantier (Jean Gabin). Simone Simon is a treat to watch and suitably underhanded in her dealings with men, but there is something too cool - too lacking in real passion - about the movie as a whole. The two male performances - Gabin's and that of Fernand Ledoux, Simon's jealous husband - are flat. Zola believed that "love and death, possessing and killing, are the dark foundations of the human soul", and while all of these things are represented by director Jean Renoir, they don't always feel authentic. Also, I don't mean to go off on a "the book was better than the movie" rant, particularly as the novel itself wasn't Zola's best work, but I would point out that one of the more memorable parts in it was the slow poisoning taking place in a house near a train crossing, and this was a story line that was one of those excised by Renoir. He is also sloppy about other parts of the novel, and when I read later that his screenplay was rushed and that when he started filming he hadn't read the novel in 25 years, I wasn't surprised. It's not horrible by any means, and in some of the train imagery you can see Renoir's influence on films like 1985's "Runaway Train" with Jon Voigt, but it fails to live up to its potential.
Antonius Block
Super Reviewer
Lovely Simone Simon (see Cat People) is a deadly seductress scheming her way from relationship to relationship. An accomplice to murder, she watches as husband kills lover. Feeling trapped, she takes a new lover, Jacques Lantier (Jean Gabin), and suggests that he kill the husband. A vicious cycle that could continue to perpetuate itself, but good ole' Jacques has a few demons of his own. La Bête humaine is a cinematic perfect storm. All the elements (Gabin, Simon, Renoir, Zola) come together to create a masterpiece of romance, tragedy and betrayal.
Randy Tippy
Super Reviewer
I dunno about this one. It had its moments of suspense, romance, etc. The scenes on the train and in the trainyard looked great. I've liked Jean Gabin in everything I've seen him in, and he doesn't disappoint here as Lantier. But forgive me, fans of her beauty (and she IS indeed beautiful), but Simone Simon's screen persona of spoiled pouting child gets old with me really quickly. It worked in Cat People, but here it's just annoying. The substory of the mysterious syndrome that turns Lantier into a murderous psychopath at the drop of a hat seemed very "deux ex machina" to me, kinda lame and gimmicky.The ending would have been more meaningful without it. I felt like this when I saw Le Bete Humaine the first time years ago, and my 2nd veiwing didn't change anything. Basically, a little overrated.
La Bête Humaine (Judas Was a Woman)(The Human Beast) Quotes
There are no approved quotes yet for this movie.