La Bête Humaine (Judas Was a Woman)(The Human Beast)
(1938)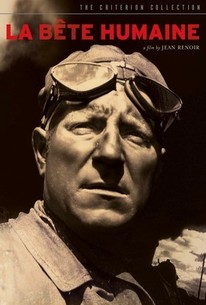 La Bête Humaine (Judas Was a Woman)(The Human Beast) Photos
Movie Info
Based on a novel by Emile Zola, La Bete Humaine weaves a mesmerizing tale of a tragic triangle. Train engineer Jean Gabin lusts after Simone Simon, the wife of his co-worker Fernand Ledoux. When Ledoux is in danger of losing his job, Simon offers herself to her husband's boss. In jealous pique, Ledoux kills the man. Gabin is witness to this, so Simon promises to reward him sexually if he'll keep quiet. As this romance intensifies, Simon tries to finagle Gabin into killing Ledoux. Sick of the whole sordid affair, Gabin murders Simon and then kills himself. When Fritz Lang remade La Bete Humaine as Human Desire in 1953, he carefully copied several of the best visual selections made by Jean Renoir in the original film; what he was not permitted to copy was the story itself, which had to be heavily laundered to accommodate Hollywood's censorship limitations. ~ Hal Erickson, Rovi
News & Interviews for La Bête Humaine (Judas Was a Woman)(The Human Beast)
Critic Reviews for La Bête Humaine (Judas Was a Woman)(The Human Beast)
Audience Reviews for La Bête Humaine (Judas Was a Woman)(The Human Beast)
½
Jean Renoir's dark retelling of the classic novel by Emile Zola has beautiful naturalist cinematography, stunning locomotive sequences, and bravura talent courtesy of the three leads (Gabin, Simon, and Ledoux). La Bete Humaine is the equivalent of Emile Zola (praising everyman values) writing Crime and Punishment, as in all of the characters have hidden scars, mostly from murder, and you watch as they go from having ordinary lives to destructive relationships. There are some amazing moments with Renoir's camerawork and the acting, and a lot of okay ones, and though the finale was intense, the just okay moments overtake most of the film's running time, rendering a longer than it should'v been. All in all, a great Zolaesque character study. 88/100
Simeon Deutsch
Super Reviewer
Lovely Simone Simon (see Cat People) is a deadly seductress scheming her way from relationship to relationship. An accomplice to murder, she watches as husband kills lover. Feeling trapped, she takes a new lover, Jacques Lantier (Jean Gabin), and suggests that he kill the husband. A vicious cycle that could continue to perpetuate itself, but good ole' Jacques has a few demons of his own. La Bête humaine is a cinematic perfect storm. All the elements (Gabin, Simon, Renoir, Zola) come together to create a masterpiece of romance, tragedy and betrayal.
Randy Tippy
Super Reviewer
I dunno about this one. It had its moments of suspense, romance, etc. The scenes on the train and in the trainyard looked great. I've liked Jean Gabin in everything I've seen him in, and he doesn't disappoint here as Lantier. But forgive me, fans of her beauty (and she IS indeed beautiful), but Simone Simon's screen persona of spoiled pouting child gets old with me really quickly. It worked in Cat People, but here it's just annoying. The substory of the mysterious syndrome that turns Lantier into a murderous psychopath at the drop of a hat seemed very "deux ex machina" to me, kinda lame and gimmicky.The ending would have been more meaningful without it. I felt like this when I saw Le Bete Humaine the first time years ago, and my 2nd veiwing didn't change anything. Basically, a little overrated.
La Bête Humaine (Judas Was a Woman)(The Human Beast) Quotes
There are no approved quotes yet for this movie.
Discussion Forum
Discuss La Bête Humaine (Judas Was a Woman)(The Human Beast) on our Movie forum!