Last Train Home
(2010)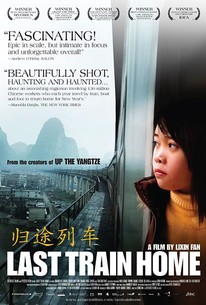 TOMATOMETER
AUDIENCE SCORE
Critic Consensus: Last Train Home is a haunting, vivid documentary exploring the human toll of China's economic boom in intimate, unforgettable detail.
Movie Info
Every spring, China's cities are plunged into chaos as 130 million migrant workers journey to their home villages for the New Year's holiday. This mass exodus is the world's largest human migration-an epic spectacle that reveals a country tragically caught between its rural past and industrial future. Working over several years in classic verité style Chinese-Canadian filmmaker Lixin Fan (with the producers of the award-winning hit documentary Up the Yangtze) travels with one couple who have embarked on this annual trek for almost two decades. Like so many of China's rural poor, Changhua and Sugin Zhang left behind their two infant children for grueling factory jobs. Their daughter Qin-now a restless and rebellious teenager-both bitterly resents their absence and longs for her own freedom away from school, much to the utter devastation of her parents. Emotionally engaging and starkly beautiful, Last Train Home's intimate observation of one fractured family sheds light on the human cost of China's ascendance as an economic superpower.-- (C) Zeitgeist Films
News & Interviews for Last Train Home
Critic Reviews for Last Train Home
Audience Reviews for Last Train Home
The plight of the Chinese lower class in changing economic times has received several treatments over the last couple of years. This one was particularly poignant. I think about what this couples' life is like currently. The attachment felt by the viewing audience is genuine.
John Ballantine
Super Reviewer
Moral: China = one big clusterf**k. Well, there's more than that. The film was effective in transporting the viewer into crowded scenarios in just about any context: trains, homes, public stations, factories, rinse, wash, repeat. But the film took some kind of Soderberghian low-fi approach to storytelling, rather than taking a documentarian approach. The story specifically follows a mother and father who work 2100km away from their children - who are being raised by the grandmother - and the sacrifices they make for working hard and raising money for them from afar, bla dee bla bla. It's meant as a juxtaposition to the western way of life, but the sheer staginess and artificiality of each scene didn't let us forget that with a few inserted lines of exposition: "Westerners are fat!" "Westerners spend all their money!" etc. etc. It was tiresome, and the story uninvolving because at least 3/4 of the film seemed fakely set up. Sure, there were some artistically rendered frames of the lovely Sichuan province and the grimy, hazy cityscapes choking in factory smoke (evoking those Police lyrics, "it's dark all day and it glows all night, with factory smoke and acetylene light"). But there are some frames that feel too much like the director asked the subjects to sit in a certain way because it might look neat or something. There's not a whole lot of intimacy with a teenage girl lamenting her grandfather's passing to a Buddha idol with a cameraman standing 3 feet away in her face. I mean, unless this is a fiction piece - and it isn't - how can you really be absorbed with the story? Because of this specific inauthenticity, the grander authenticity of cultural sacrifices and a study of Chinese peasantry was impeded greatly. In other words, it was a really, really boring film. And that's too bad, because there was some good material here to work with.
Neum Daddy
Super Reviewer
"Last Train Home" is a heartbreaking documentary about migrant workers in China who number about 130 million. If the filmmakers had stopped with just the awe-inspiring crowd footage of all of them trying to get home at Chinese New Year, this would still have been very compelling viewing.(It is amazing how they got the footage in the first place which also shows the police and soldiers displaying an admirable level of restraint.) As it is, the movie goes deeper with an emphasis on one couple who have been migrants for the past sixteen years and their trip home of 2100 kilometers, that not only involves a crowded train but also a bus, an antiquated ferry and local bus to their home village where everybody of age has left to seek work elsewhere. Now, it is their 16-year old daughter Qin's turn which creates a lot of tension in the household, since they expected her to continue her studies. These parents, like others elsewhere, see their work lives as sacrifices, so the next generation can have it better and not go through the same things they have had to.(There are differences, as most of the money earned by these workers is saved, not spent. At the same time, the workers form an opinion of the western world, based on the products they make, especially jeans with 40 inch waistlines.) But sadly that is not the case and this continuing trend of worker migration is slowly shaking China apart; at the same time the country is also coming together to celebrate the 2008 Beijing Olympics.
Last Train Home Quotes
There are no approved quotes yet for this movie.