Legend of the Red Dragon
(1994)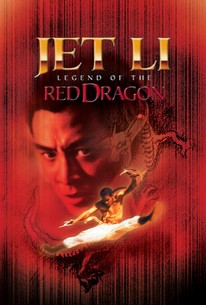 AUDIENCE SCORE
Critic Consensus: No consensus yet.
Legend of the Red Dragon Photos
Movie Info
In this Hong Kong martial arts film, kung fu expert Hong Xiguan joins a group of rebels to try to usurp the oppressive rulers. Unfortunately, Hong's family is slain, except for his son. They join forces with some martial arts experts to defend the Shaolin temple from invaders.
Critic Reviews for Legend of the Red Dragon
There are no critic reviews yet for Legend of the Red Dragon. Keep checking Rotten Tomatoes for updates!
Audience Reviews for Legend of the Red Dragon
½
Great, fun martial arts flick. Very tongue-in-cheek and light-hearted. Excellent chemistry and performances from all the main Hong Kong actors. Jet Li plays a martial art master skilled in the magic spear and in this movie you get to see his skill with spears and the amazing things he can do with it from the opening action scene. His son is simply amazing and funny as a very disciplined young martial artist. On their journey they come across a couple of con-artists (mother and daughter) with the most hilarious results. A hero's quest with a range of other fantastic characters thrown in make for a great comic, action-adventure story. Also great for all the family. It explores themes of loyalty and traditional Chinese father-son, mother-daughter, peer, and romantic relationships in a silly but highly enjoyable manner. Highly recommended!
Dean McKenna
Super Reviewer
Instead of an overly serious martial arts movie, Legend of the Red Dragon doesn't take itself at all seriously and this is its greatest strength. Despite the recent success of Crouchig Tiger, Hidden Dragon, it was not impressed by this movie. It featured too many way over the top stunts and the plot was amazingly serious and artistic. But here, because the plot and writing are so silly and it's all done tongue in cheek, you can more easily accept the ridiculous but spectacular stunts. While not quite as silly as Stephen Chow's Kung Fu Hustle, it was close and surpassed it in plot, excitement and grandeur. In addition, the idea of pairing Jet Li with an amazing child kung fu master was pretty funny because the child's talents were so ridiculously amazing and impossible. Additionally, while Jet Li played his part very straight, so many of the supporting characters were again pretty cartoon-like. The movie is a wonderful combination of great technique, expert filming and silliness that will thrill lovers of kung fu movies. Unlike Jackie Chan or Bruce Lee's movie, this movie involves far less punching and kicking, relying instead on the amazing use of weaponry and silly physics. By the way, the film is rated R, but I think it could easily been rated PG-13 as the violence wasn't that extreme and there was no nudity or excessive foul language.
Steven Vincent Gee
Super Reviewer
Good fights, but retarded plot, yes, even for HK action standars. You couldn't expect less from the Uwe Boll of asian cinema: Jing Wong.
Tsubaki Sanjuro
Super Reviewer
Legend of the Red Dragon Quotes
There are no approved quotes yet for this movie.