Letters to Father Jacob (Postia pappi Jaakobille)
(2010)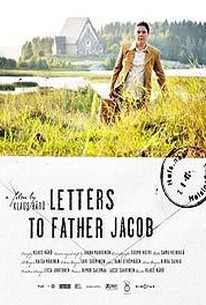 Letters to Father Jacob (Postia pappi Jaakobille) Photos
Movie Info
Leila has just been pardoned after serving 12 years of a life sentence. Upon her release from prison she is offered a job at a secluded parsonage as the personal assistant to the blind pastor Father Jacob, who's life's mission is to answer the letters of those who write asking for his help. Although she regards Father Jacob's correspondence as pointless, it ultimately plays a role in Leila's own redemption and self-forgiveness.
Critic Reviews for Letters to Father Jacob (Postia pappi Jaakobille)
Audience Reviews for Letters to Father Jacob (Postia pappi Jaakobille)
This quiet little gem from Finland grabbed this viewer's heart. A woman is pardoned from a life sentence and has nowhere else to go, but to live in a rundown rectory with an old blind priest and help him with his correspondence with people seeking advice and prayer. The minimal cast is marvelous. Kaarina Hazard plays Leila, whose crime is only revealed toward the end. Her distrust and guilt take turns undermining her ability to recognize the healing she quietly undergoes and indeed keep her from recognizing her need. The old blind priest, Father Jacob (Heikke Nousiainen), lives out his days waiting for the postman (Jukka Keinonen) to bring the day's letters so that he can get to work. One gets drawn in to the interplay between these three characters and the situation at the rectory. There are flaws in the story, but they are minor and do not detract from the message of the film, which is that we are each in need of purpose, some are damaged in unseen ways, and that community, even one so small, is necessary for survival. Kudos to director Klaus Haro for presenting the audience with such a beautifully filmed and lovingly told story.
Mark Abell
Super Reviewer
½
Truly beautiful film about an elderly, blind priest who takes in a hardened former convict as his personal assistant, reading the letters sent to him from all over asking for prayers and spiritual guidance, and writing out his responses. But as the letters stop coming and Father Jacob begins to feel the world leave him behind, both of them begin to realize they may be exactly what each other needs. A deeply moving tale of redemption and the profound need to be needed that is refreshingly un-manipulative.
Matthew Lucas
Super Reviewer
Letters to Father Jacob (Postia pappi Jaakobille) Quotes
There are no approved quotes yet for this movie.