Little Big Man
(1970)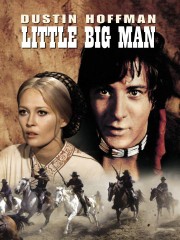 Tickets & Showtimes
Little Big Man Trailers & Photos
Movie Info
Adapted from the novel by Thomas Berger, Little Big Man opens with the spoken reminiscences of 121-year-old Jack Crabbe (Dustin Hoffman, immersed in tons of age makeup). In flashbacks, we see how, as a young and wide-eyed frontiersman, Crabbe is adopted by an Indian tribe led by philosophy-spouting Chief Dan George. The film's highlight is the Little Big Horn massacre, with megalomaniac General Custer (Richard Mulligan) self-destructing as Crabbe looks on. Faye Dunaway shows up along the way as a sensual preacher's wife, who later becomes the jaded object of Wild Bill Hickok's (Jeff Corey) affection. The ingenuous Crabbe at hand during virtually every highpoint of Western history. To prepare for the scenes in which Crabbe is one hundred-plus, Hoffman screamed for hours in order to give his voice the proper parched timbre. Little Big Man seldom falters during its 150 minutes, but time has taken some of the lustre off this once highly-praised frontier fable.
more
Twentieth Century Fox Home Entertainment
Cast
News & Interviews for Little Big Man
Critic Reviews for Little Big Man
Audience Reviews for Little Big Man
Chris Weber
Super Reviewer
½
The last survivor of the battle of Little Big Horn reminisces about his life in this off beat comic western starring Dustin Hoffman. The film obviously belongs to Hoffman himself as the entire story revolves around him and his life and he's an engagingly bemused anti-hero as he witnesses the atrocities and hypocrisies of the changing face of the old west, but what gives it real character is the supporting cast of oddballs who flit in and out of his sphere. These include yet another hilarious and charming performance from Chief Dan George as his adopted grandfather, a smouldering Faye Dunaway as the western equivalent of Mrs. Robinson and Richard Mulligan who plays Custer as a self-obsessed, pompous boob. It's very much a film of its time, sharing much of the flavour of anti-establishment fiction of the era and employs sly wit and gentle humour rather than the sentimentality and melodrama of the likes of Dances With Wolves in its depiction of the appalling mistreatment of the Native American population. One of the strangest westerns you'll ever see certainly, as well as one of the most interesting and fun.
one of the more unusual westerns ever made and one of my favorite films as a kid. starring dustin hoffman as a supposedly 121 yr old man, the only white survivor of the battle of the little big horn. ranging from black comedy to drama to slapstick and back, it's a highly entertaining picaresque and also one of the first films to address native american rights in any way. a bit dated now and i think dustin is probably miscast (his accent is particularly bad) but i still love it. and chief dan george is awesome! <3
Stella Dallas
Super Reviewer
Little Big Man Quotes
Old Lodge Skins: Does she show enthusiasm when you mount her?
Shotgun Guard: Goodby, Hello.
Old Lodge Skins: Sometimes the magic works, sometimes it doesn't.
Burns Red In The Sun: There is a pain between my ears that I do not understand.
Discussion Forum
Discuss Little Big Man on our Movie forum!
News & Features