Live Free or Die Hard
(2007)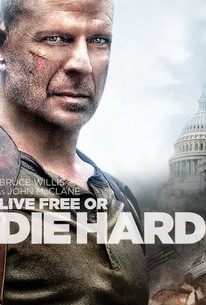 TOMATOMETER
AUDIENCE SCORE
Critic Consensus: Live Free or Die Hard may be preposterous, but it's an efficient, action-packed summer popcorn flick with thrilling stunts and a commanding performance by Bruce Willis. Fans of the previous Die Hard films will not be disappointed.
Live Free or Die Hard Videos
Live Free or Die Hard Photos
Movie Info
On the Fourth of July weekend, an attack on the vulnerable United States infrastructure begins to shut down the entire nation. The mysterious figure behind the scheme has figured out every modern angle... but he never figured on McClane--the old-school "analog" fly in the "digital" ointment. It's the beginning of the holiday, but New York City Detective McClane isn't celebrating. He's had yet another argument with his college-age daughter Lucy, and received a crushingly routine assignment to bring in a young hacker, Matt Farrell, for questioning by the FBI. But for McClane, the ordinary has a habit of exploding into the extraordinary--abruptly hurtling him into the wrong place at the wrong time. With Farrell's help, McClane slowly begins to understand the increasing chaos surrounding him. An attack is underway on the vulnerable United States infrastructure, shutting down the entire nation. The mysterious figure behind the scheme, Thomas Gabriel, stays several moves ahead of McClane as he implements his incredible plans, known to uber-geeks like Farrell as a "fire sale" (as in, everything must go!)
Rating:
PG-13 (for intense sequences of violence and action, language and a brief sexual situation)
Genre:
,
Directed By:
Written By:
In Theaters:
On DVD:
Box Office:
$134,500,000.00
Runtime:
Studio:
News & Interviews for Live Free or Die Hard
Critic Reviews for Live Free or Die Hard
Audience Reviews for Live Free or Die Hard
½
[img]http://images.rottentomatoes.com/images/user/icons/icon14.gif[/img]
Directors Cat
Super Reviewer
This was a nice (enough) return to a great series. There's plenty of action and drama, and over-the-top stunts and sequences, Willis still has the gusto he used to, and the supporting cast does nice work too. It would have been nice had this been "hard-edged" like the previous films, but even though it's not, it's still a decent film. Like the previous entry, this one is on a larger, more open scale, with McClane having to stop a high tech terrorist attack on the country's (mainly eastern seaboard) computer infrastructure using his old school analog ways. Joining him is a dweeby computer guy who makes for a pretty decent comic foil, though he has nothing on Samuel L. Jackson's Zeus from the previous film. The film (at least the theatrical cut) suffers from being sanitized and given the PG-13 treatment, but if you're open minded, you can look past this aspect. McClane is also treated like a friggin superhero, basically surviving stuff that no normal man should. This last aspect seems to increase as this series goes on, and, yeah, it's a bit dumb, but if all you want is a cheesy over-the-top action spectacle, then you should be decently happy with this one.
Chris Weber
Super Reviewer
½
Up until the most recent movie("Good Day to Die Hard") this was the most over the top installment of the movie. McClane(Bruce Willis) is visiting his daughter when he gets a call to pick up a hacker(Justin Long) and take him to Washington D.C. When he gets to the hackers apartment they are attacked, and it turns out the hacker didn't know, but he had been working for a terrorist named Gabriel(Timothy Olyphant) to set off a Fire Sail. Using technology they turn off traffic, all the power, all the communication, shut down financial institutions and attempt to put the U.S. back in the dark ages. But they didn't know they would have to contend with John McClane, an "analog man in a digital world". Now he is our best chance to stop them before it's too late. McClane is pretty much indestructible, and jumps onto F-35 jets here, so yes it's crazy and way over the top, but it's still a "Die Hard" movie, and it's still awesome. Not as good as others in the series, but it's still very entertaining for an action flick that holds up decent. Biggest problem is it's rated PG-13 and he only says "Yippy Ka Yah" without the rest of it;) Still, if you haven't watched it, go back and give it a shot.
Everett Johnson
Super Reviewer
Live Free or Die Hard Quotes
| | |
| --- | --- |
| Thomas Gabriel: | On your tombstone it should read 'At the wrong place at the wrong time,' |
| Thomas Gabriel: | On your tombstone it should read 'At the wrong place at the wrong time'. |
| John McClane: | How about ' Yippie ki yay, motherfucker!' |
| John McClane: | How about ' Yippie ki yay, motherfucker!'. |
| | |
| --- | --- |
| Thomas Gabriel: | (On the phone) Mai, what the hell's going on? |
| Thomas Gabriel: | [on the phone] Mai, what the hell's going on? |
| John McClane: | Mai? Oh yeah, little Asian chick, likes to kick people? I don't think she's gonna be talking to anyone for a long time. The last time I saw her she was at the bottom of an elevator shaft with a big SUV rammed up her ass. |
| | |
| --- | --- |
| John McClane: | "Nice poster." |
| John McClane: | Nice poster. |