Metallic Attraction: Kungfu Cyborg (Kei hei hup)
(2009)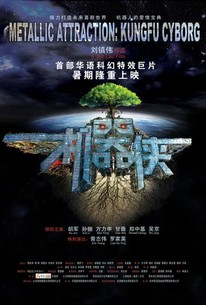 AUDIENCE SCORE
Critic Consensus: No consensus yet.
Movie Info
Officer De Ming is the pinnacle of modern law enforcement. Courteous. Courageous. Committed.Almost human.Designed to handle assignments too dangerous for traditional methods, De Ming is the first in the TN Research Bureau's "K Series"-a revolutionary cybernetic organism programmed with a sophisticated social conscience.Sent to a remote town as part of a covert training operation, De Ming is placed under the supervision of the local police captain, Xu Dachun. Xu's mission: facilitate De Ming's integration into the community while protecting the secret of his young protégé's true identity.Charmed with a talent for delivering both justice and compassion, De Ming is quick to win the hearts of the town residents-though none more completely than that of Su Mei, a fellow officer who also happens to be the object of the captain's secret affection.
Critic Reviews for Metallic Attraction: Kungfu Cyborg (Kei hei hup)
There are no critic reviews yet for Metallic Attraction: Kungfu Cyborg (Kei hei hup). Keep checking Rotten Tomatoes for updates!
Audience Reviews for Metallic Attraction: Kungfu Cyborg (Kei hei hup)
½
Jeffrey Lau's Metallic Attraction: Kung Fu Cyborg is a film that crosses many genres from romance to comedy to action to science fiction. This title is a bit misleading. If one were to break the title in half, then "Metallic Attraction" would be the half that fits this film.
When viewing this picture, the romance story takes the front seat while the robots sit in the back as a sub plot. This isn't to say that this film sucks, but it sure as heck isn't an action extravaganza.
The seemingly low budget is noticeable as the intense, over the top, CG loaded action sequences are easily unrealistic. However this is more tolerable than one may think because this isn't necessarily Chinese Transformers. The nice thing about the action is that anything goes. The film explains very little as to the limitations of the cyborgs; thus making these robotic sequences quite entertaining.
The acting isn't too bad. Jun Hu and Betty Sun contribute the most, while Lik-Sun Fong is a respectable cyborg. Wu Jing also pops in for the action sequences.
Metallic Attraction: Kungfu Cyborg isn't a picture to avoid; at the same time it isn't one to make time for.
½
The main thing that you need to know about this movie is that its better then Transformers 2, but not much better. The movie at most times more like a bad character drama then a proper robot on robot movie, with some very unnecessarily developed characters and scenery chewing from the actors. What's surprising though is the conversations actually do lead to some good confrontations with lead characters, and there is actual character development involved. Nevertheless, at least the director and producers know that this is the kind of movie not to be taken too seriously or for too long, unlike Michael Bay, and it is somewhat entertaining. The scenes with the robots contain some mediocre CGI and really odd fight mechanics, but its fun and cheesy enough to warrant both some laughs and entertainment. While Transformers 2 tried desperately to be LOUD, EXPLOSIVE and ACTION ORIENTED, this one kept it slow and average. Its far from a good film, but its comforting to know that Hong Kong's cinema is at least trying to market some new genres to its diverse audience.
Caius Chung
Super Reviewer
Metallic Attraction: Kungfu Cyborg (Kei hei hup) Quotes
There are no approved quotes yet for this movie.
Discussion Forum
Discuss Metallic Attraction: Kungfu Cyborg (Kei hei hup) on our Movie forum!