México Bárbaro
(2014)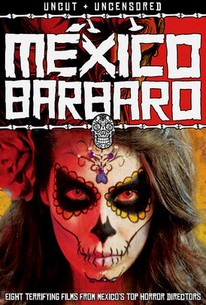 Movie Info
This collection of eight horror films features various Mexican legends and folklore helmed by Mexican directors. Filmmakers include Laurette Flores, Edgar Nito, Aaron Soto, Isaac Ezban, Lex Ortega, Jorge Michel Grau, Ulises Guzman and Gigi Saul Guerrero.
Critic Reviews for México Bárbaro
Audience Reviews for México Bárbaro
Been a few days without a review. The day after my last review, the power went out for 9 hours and I was unable to sleep, like at all. So when it came back, I went asleep. I started watching The Vault the day AFTER that, but certain issues kept me from even making it past the opening credits. And, yesterday, finally, I finished a movie and, let me tell you, it was quite the experience to say the least. Let's move on, shall we? Ah, anthology horror films, probably my favorite subgenre within horror, easily. There's just something about you that I'm instantly drawn to. Unless you're VHS Viral, which was a really bad movie outside of one really good short, you almost always end up being fun to watch regardless of whether or not I found the movie to be any good. Again, Viral ended up being the exception to the rule as even Creepshow 2 had a certain campy charm that made, while never as good as the original, still fun to watch. I'm also a big fan of this genre because it invites a certain amount of creative leeway that, maybe, directors can't really afford in a feature-length setting where, sometimes, you wanna make something that's gonna be, within the genre, relatively accessible to people. You don't have those limitations in this anthology setting, the anthology aspect is what sells these films, not the content of each short. I mean, obviously, it helps if the content itself is great, but the nature of these movies is that you're gonna get a few stinkers in there. But you can, literally, do whatever you want in these segments and not have to worry about anything. Again, I think that allows someone far more creative freedom in trying crazier shit that you normally wouldn't do and I think that's what this movie excels at. Let's just get this out of the way first, this is not the best anthology horror movie you will ever see, nor is it the worst. But, in my opinion, it offered a batch of surprisingly entertaining shorts that are bound to gross out most people. I doubt I'm going to review all of the shorts individually, since I'd probably be here forever, but I'm gonna give my overall thoughts on each, if I can. There's obviously a few stinkers here. The movie starts off on a weak note with Tzompantli. There's nothing inherently wrong with it, it's meant to introduce the rest of what we're gonna see. But the segment just doesn't really do much outside of a pretty cool and grotesque abacus of human heads that's revealed at the end. The second short, Jaral de Barrios, sees these bandidos robbing some gold that doesn't belong to them. One of them receives the 'kiss of death' by this being, while the other one is driven to insanity by this same being. I thought this was a solid enough short in and of itself, but not as crazy as some of the others go. Drena, now THIS is where the grossness really begins. Let's just say that it has to do with menstrual blood. Perhaps it's not as technically solid as some of the other segments and a lot of what happens is left to the imagination, but there's a few of the lines here were tremendous. Just the entire concept was a good one, if perhaps not the best at its execution. La Cosa Mas Preciada, the next short, is a bit of a mixed bag. It takes a more comedic approach to the proceedings, it's designed to be a purposely bad 80s horror movie, complete with camera effects making it look like an older film. These effects aren't effective, like at all. They just look like a really cheap way of making the film look older than it actually is. The acting is purposely bad. But, I don't know, outside of some practical make-up effects that are solid, I didn't really like this short that much. It just felt way too straightforward to be anything that I got into because, again, there's so much more than can be done in this setting and for it to be just what it was was a little disappointing. Plus I'm not really satisfied with how this played out creatively speaking. This one, to me, is a stinker. I know a friend of mine is not gonna like this since she didn't like certain scenes of The Hills have Eyes. The next short, I think, it doesn't really matter if I do them in order honestly, Lo Que Importa es lo de Adentro might probably be my favorite segment of the entire film. The darkly humorous title underscoring the fact how messed up it actually is. It works because it is completely and utterly sick, but it's also well-written in how they use the little girl to reveal that, in fact, her brother had been kidnapped (and much, MUCH worse) by this guy who hangs around the outside of their apartment. But, the little girl, being unable to communicate (she only says one word 'cuco', which is the Hispanic equivalent of the bogeyman) means that her mother ignores her pleas all of the time. It's sick, it's dark, it's gory and, honestly, kind of gross. The stuff nightmares are made of, for some people at least, and, to me, the best segment of the movie. The next short, Munecas, doesn't really amount to much, but it's not bad. To me, it doesn't really make sense because the idea is that these people at the Island of the (Dead) Dolls (which is Munecas in english) that give these tours have been getting away with kidnapping tourists for a long time is preposterous. I mean, at some point, some of these tourists are gonna mention that they're going to this island. And when they disappear, somebody's gonna put two and two together. It's preposterous in theory, but the execution is fine. The visual style is certainly more artful than any of the other segments, but there's not really much to this. Siete Veces Siete is another good one. Basically, it has to do with this man, who performs this ritual to bring this person back from the dead to enact revenge on what he did to his wife, son and himself. Simple enough and the surrealist visuals are some of the best parts of the. But, at the same time, it also has some of the worst parts of the movie. The acting and some of the special effects (minimally used admittedly) are really bad. There's also these photographs showing how close Bunny (the lead) used to be with the man who betrayed him. The 'still images' have green screen backgrounds so bad I probably could have done better while asleep. Then Bunny and the other man, in other photos with the same shitty backgrounds, look at each other mean to signify some sort of betrayal. It was just really fucking bad. And it's like why do this? What was the point of injecting shit that only made your segment look like total amateur hour. That and the acting ruined what, conceptually, is a really good short about a man who will continue this cycle of vengeance for as long as he can do so. I still liked it a lot, actually, but I felt that the negatives were impossible to ignore. Dia de los Muertos sees this madame (who owns a brothel) teach her 'employees' something about standing up for themselves and fighting back against those who wronged them. So you get to see these women fight back against the men who have mistreated them and it is great. Violent and straightforward, but effective and a lot of fun. So, if I'm being honest, while I'm giving this movie 3 stars, it seems that a lot of the shorts aren't as good as I remember them being. But, in my opinion, I think if you were to take them individually, yes, it might be a bit of a mixed bag, but as a whole, I think it adds up to a fun experience. Just the fact that Mexico's history is full of such folklore and legends meant that they probably could have gone even longer if they wanted. In fact, when the movie was over I was actually kind of sad, because I did want to see more. And, in fact, there is a sequel planned and you best believe that I'll watch it if it ever becomes available on Netflix. So, yea, I had fun watching this movie. It's definitely not gonna be everyone's cup of tea, but this ended up being a solid anthology movie. My enjoyment ended up being more about the overall experience as opposed to the quality of each short. Which is strange, but I found something to like here and I'm not gonna question why. I will say that it is an acquired taste, so I can't exactly give it a glowing recommendation.
Jesse Ortega
Super Reviewer
México Bárbaro Quotes
There are no approved quotes yet for this movie.