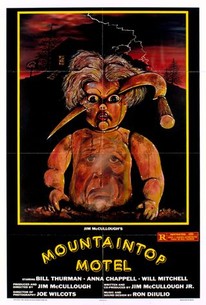 Mountaintop Motel Massacre
1986, Horror, 1h 35m
2 Reviews
250+ Ratings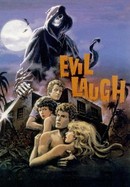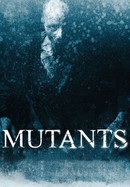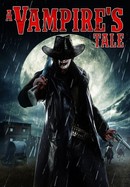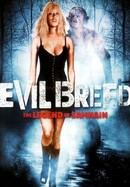 Evil Breed: The Legend of Samhain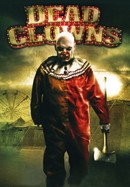 Where to watch
Rent/buy
Rent/buy
Rent/buy
Rate And Review
Mountaintop Motel Massacre Photos
Movie Info
An old woman (Anna Chappell) checks in bungalow guests, then visits them via tunnels with snakes, rats and a sickle.
Audience Reviews for Mountaintop Motel Massacre
This movie has a very typical killer, we get to see her for the entire movie, and she's a cross between Carrie's mother and Mrs. Vorhees. The rest of the cast is pretty dull, and we don't even get to see some of them die. The deaths are really lame too. Overall I didn't like this movie, it's too boring.

Suprisingly good 80's horror flick that I really enjoyed way more then I expected to.This is a movie that I would recommend checking out if you have the chance or are looking for something to watch on Halloween or especially a dark rainy night because it was raining throughout the whole movie & that's 1 of the things that makes Mountaintop Motel Massacre more fun to watch

Mountaintop Motel Massacre is basically a 1980's rip off of Psycho. Considering how low the ratings were for this film, I was pleasantly surprised that I enjoyed this film. Though not the best Slasher film, Mountaintop Motel Massacre is a fun, cheesy horror film that you really can't take seriously. The film is interesting and despite being derivative, the film is a must see gem of slasher sleaze. The film lacks an effective body count, which is the low point of the film. However I enjoyed the film for what it was, a silly, cheesy slasher that will appeal to horror fans who enjoy this type of film. I was surprised that Mountaintop Motel Massacre was this good, as the reviews for this one have been less than favorable. However this is one of those underrated, forgotten 80's gems that is a must see for horror fans. Though not as good as many other slasher films of the 1980's, Mountaintop Motel Massacre still is entertaining enough to spend a good hour and a half. Like I said, the film does lack a high body count, so fans expecting gruesome kills after kills won't really find it here. Mountaintop Motel Massacre has a relatively low body count, and relies on steady pacing to create its horror. Though not scary, and more tongue in cheek than anything, Mountaintop Motel Massacre is an underrated film worth seeing, and a film that should be rediscovered by slasher fans everyone. The film is entertaining, and frankly doesn't deserve all the flack it has received. The film is far better than one might think, even if it's not the best. An entertaining time waster for what it is.

Yeah, this isn't all that great. I remember seeing the VHS box art when I was a kid at the video store, but I never saw it until now... and I wasn't missing much. To be fair, I can see why it did well at the drive-in. Hardly anything happens throughout the whole movie so you don't have to follow it too closely - a good thing for horny teenagers on a Friday night. It's fun to watch these people try to act and to wait for some sort of plot to kick in, which doesn't happen for a very long time. To be succinct, most horror fans can probably just skip this one. There isn't all that much for the gorehounds or anyone else, really. It's a good concept for a horror movie that never delivers anything and is just so poorly executed that I'm surprised it's gotten the little bit of noteriety that it has.
See Details