My Amityville Horror
(2013)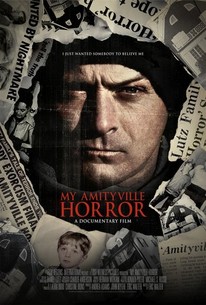 TOMATOMETER
AUDIENCE SCORE
Critic Consensus: My Amityville Horror offers an unsettlingly ambiguous personal perspective on the true story that spawned a horror franchise.
My Amityville Horror Photos
Movie Info
For the first time in 35 years, Daniel Lutz recounts his version of the infamous Amityville haunting that terrified his family in 1975. George and Kathy Lutz's story went on to inspire a best-selling novel and the subsequent films have continued to fascinate audiences today. This documentary reveals the horror behind growing up as part of a world famous haunting and while Daniel's facts may be other's fiction, the psychological scars he carries are indisputable. (c) IFC Films
News & Interviews for My Amityville Horror
Critic Reviews for My Amityville Horror
Audience Reviews for My Amityville Horror
My Amityville horror is disturbing in a panormal sense, but more importantly in a psychological sense. The film's a character study on Daniel Lutz, who no matter what happened in the house is a highly disturbed man. He's also highly well spoken, as pointed out in the film, which makes him believable. I can understand why atleast half the people who watch this won't care for it, but this is one of the scariest things I've seen in a long time. The scene where Danny and Lorraine start getting altercation about people being atheist, is highly uncomfortable and awkward. Director Eric Walter needs work, since it didn't feel like he was running it, but overall it's a great debut, with plenty of creepy moments.
Daniel Dolgin
Super Reviewer
Recounting the paranormal trials of Daniel Lutz, the real-life inspiration of the Amityville Horror phenomenon, "My Amityville Horror" is a somewhat fascinating discovery about a young boy growing up under the microscope after a stepfather that he hates moves them into the now infamous Amityville house. Never haunted since, the interviews with Lutz do little to convince whether or not these occurrences actually happened and do more to see the twisted struggles that have led to the now candid and sometimes mean-spirited Daniel, who still hates his deceased stepfather and is offended by the idea of being submitted to a lie detector test. With some chilling evidence, new revelations involving George Lutz's possible Satan worship practices, and Daniel's believable stories, the documentary does take on a life of its own and becomes an interesting character study at the very least.
Christopher Haskell
Super Reviewer
½
Having long been fascinated by the Amitville saga, and its many facets, I went in to My Amityville Horror with a peaked interest. My Amityville Horror is the story of Daniel Lutz, 10 years old at the time of the incident, the resulting trauma he experienced, and the anguish he is still in years after the events, real or imagined (perhaps both). As a documentary, it is exceptionally well done, spellbinding, and relentlessly thought-provoking. Director Eric Walter is successful the most in evoking the immense emotions, intensity, and general unsettlingly nature of Daniel Lutz. We see a man that is in many respects tormented, yet unbelievably passionate. Through his narration, we are captivated by, if nothing else, his believability. He is a cinematic experience in of himself, and Walter does a fantastic job of channeling this anger and raw emotion in to a coherent story, bolstered by other interesting personalities involved with the phenomena. As far as Daniel's depiction of the events, one should keep in mind that his younger brother, Christopher Lutz, has gone public with his suspicions of George Lutz as the, at the very least, catalyst for such events. His reliability might be called in to question because of his anger for his step-father, but I found his narration compelling, if not gut-wrenching. A must see, if only for the character study it offers. 4.5/5 Stars
Jeffrey Meyers
Super Reviewer
My Amityville Horror Quotes
There are no approved quotes yet for this movie.