Nae-ga sal-in-beom-i-da (Confession of Murder)
(2013)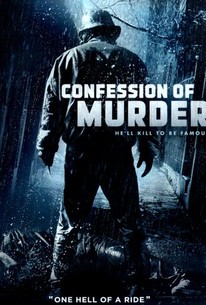 AUDIENCE SCORE
Critic Consensus: No consensus yet.
Nae-ga sal-in-beom-i-da (Confession of Murder) Photos
Movie Info
A charismatic man claims responsibility for a series of murders that have fallen out of the statute of limitations, sparking a media frenzy, sending the detective who pursued him into a spiral of obsession, and prompting the victims' families to seek vigilante justice.
Critic Reviews for Nae-ga sal-in-beom-i-da (Confession of Murder)
Audience Reviews for Nae-ga sal-in-beom-i-da (Confession of Murder)
Maymay Asahan
Super Reviewer
½
The movie is basically a no-brainer action thriller that defies logic without hesitation. Maybe that's the reason one of the characters is given the following line in the film: "Sir, your creative liberty is off the charts." I might have liked it better had they not dragged the ending.
familiar stranger
Super Reviewer
½
Not quite sure what to think about this film. And that is all reliant on how I viewed the twist to the film. Part of me thinks that it's actually a pretty clever little twist. But part of me also thinks of how complicated, and ultimately contrived, this plan must be in order to pull off. There are so many different ways that things could've gone wrong that I find it impossible that those in question had some many contingency plans that this could've been pulled off as flawlessly as it was. I'm not even sure whether I should spoil it or not. It's not like the film completely depends on the twist. Actually, when you really think about it, it entirely depends on the twist. Fuck it, I'm gonna spoil it. Basically the whole book deal, and someone else pretending to be the murderer, was a plan by Lt. Choi to draw out the real murderer due to, what he says at one point, the fact that the real killer is an egomaniac that wants the spotlight. This is something I have a problem with, mostly because there's no evidence, other than Lt. Choi outright telling us, and the actual killer wanting no one else taking credit for his work, that this guy is an egomaniac. If they had given us more back story, they could've planted that seed in there. Maybe have him delivering letters to various news outlets in order for them to be broadcast or else he'll kill 20 kids, as an example. Something like the Zodiac did. Give me something to where I can actually believe that this guy is an egomaniac who's starved for attention and validation for the crimes he committed. Don't just tell me without no set-up that this guy is an egomaniac because it's not gonna work. The film is pretty decent for the most part, it's got some incredibly preposterous set piece moments that really feel out of place in this film. The whole car chase/kidnapping scene was a little unnecessary. I get the reasoning behind it, but it didn't really work for me because it had some really goofy and over-the-top moments when you're trying to tell a more "human" story, if you will. Of course that humanity is lost in the midst of the simpler story of revenge, but it is there. At least it's something. The acting is definitely solid, I'm a big fan of Jung Jae-young so no problems there. But the rest of the cast is solid. Of course, there are some melodramatic moments. That is to be expected in a South Korean film, but it isn't so intrusive to where it detracts much from the whole experience. Writing isn't great, but it gets the job done. One thing I must say about this film is that, until the last debate between Choi, the impostor, and the real murderer, the film moves at an incredibly fast pace. So I can't say that this movie is boring at all. It's decent at best. The twist is definitely a problem though. At first glance it doesn't really seem that bad, but upon further inspection, so many holes are opened up that it I think it backfired a bit. Still, the film is perfectly decent. Most will probably like it even more than I did.
Jesse Ortega
Super Reviewer
Nae-ga sal-in-beom-i-da (Confession of Murder) Quotes
There are no approved quotes yet for this movie.