The Neverending Story II: The Next Chapter
(1991)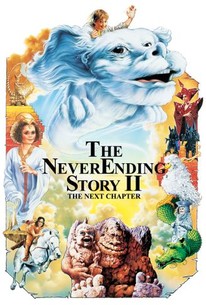 The Neverending Story II: The Next Chapter Photos
Movie Info
Following the surprisingly successful children's fantasy The Neverending Story (1984), this lesser sequel presents the further adventures of the young boy Bastian in the magical land of Fantasia. Bastian (Jonathan Brandis) returns to this kingdom of the imagination, reached through a magical antique book, to escape from his unpleasant life as a social outcast with a distant father. Unfortunately, things aren't so great in Fantasia either, which is under attack by the sorceress Xayide (Clarissa Burt), and Fantasia's young leader soon recruits Bastian to help win the battle for their world. Several memorable creatures return from the first film, including the Rock Biter and the Luck Dragon, and a number of other strange beasts make appearances along the way. However, the plot often relies on stale fairy-tale elements that make the sequel feel substantially less original than the fresh and unexpectedly charming original. However, enough children were entertained by the special effects and the simple story of good-versus-evil for a third installment, The Never Ending Story 3: Escape from Fantasia, to follow three years later. ~ Judd Blaise, Rovi
Critic Reviews for The Neverending Story II: The Next Chapter
Audience Reviews for The Neverending Story II: The Next Chapter
Not as good as the first of course, but it's a good enough sequel. It furthers the adventures of Bastion and everything. I liked it.
½
I used to like watching the Neverending Story movies when I was a kid, and I still watch them every now and then. "Neverending Story 2" isn't as good as the first one was, but it's not that bad. Bastian returns to try and save Fantasia from an evil sorceress. The sorceress's plan is to make Bastian make wishes until he runs out of memories and forgets where he even came from. "Neverending Story 2" is imaginative and has some cool looking creatures such as the rock creature and Falcor the flying dragon. If you liked the original movie of the series, I would recommend getting this movie. NOTE: That was my Amazon review from the year 2000.
Jason Owens
Super Reviewer
I just re-watched this recently and remembered it being a lot more entertaining when I was younger.
The Neverending Story II: The Next Chapter Quotes